Return to Headlines

August 3, 2020
First Day of the 2020-2021 School Year!
This web page will be regularly updated with information for parents and students about plans to begin the new school year on Aug. 3, 2020. Relevant documents and other information will be posted here as they become available. Once the back-to-school plan is posted, parents may email questions to backtoschool@paulding.k12.ga.us. Thank you, and we look forward to seeing all of our students very soon and having the opportunity to teach them either at school face-to-face, or virtually online.
---
Posted July 9, 2020
NEW: Supplement Q&A developed to answer many of the common questions being asked by parents. Click here to download.

DEADLINE TO REGISTER FOR VIRTUAL OPTION HAS BEEN EXTENDED ONE DAY AND WILL RUN TO MIDNIGHT ON MONDAY, JULY 13.
---
Posted July 6, 2020
Links for the Paulding Virtual Academy handbooks for each level have been added underneath the overview documents below.
A Q&A for parents of special needs students has been added below.
---
Posted July 2, 2020
The Paulding County School District has released a packet of information with everything parents and students need to know about the upcoming 2020-2021 school year:

OPTION 1 - Re-Opening Plan and Protocols for In-Person Instruction at Schools

OPTION 2 - Paulding Virtual School Enrollment Information

ENROLLMENT WINDOW: July 6 until midnight on July 12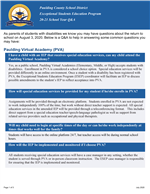 ---
Posted June 25, 2020
Survey Results Now Available!
The school district conducted a parent survey June 8-11. Superintendent Otott presented a summary of results to the Board of Education at the June 23rd board meeting.