Return to Headlines
1:1 Program Launches at P.B. Ritch Middle School
On October 14, 2022, P.B. Ritch Middle School became the first school in the Paulding County School district to implement the district's new 1:1 ("one-to-one") program that will provide laptop computing devices for all students. Ritch Middle School is serving as a test site as the district prepares for the district-wide launch of a 1:1 initiative for all students.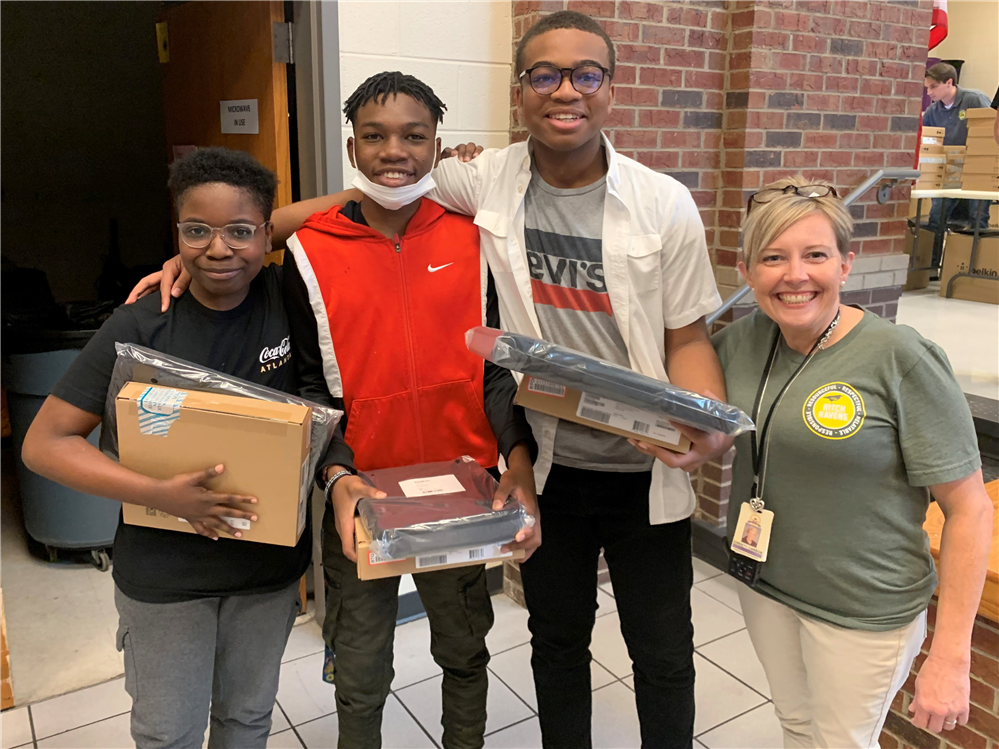 Paulding County Schools Chief Information Officer Julie Ragsdale said that after years of research, due diligence, and planning, it was exciting to see the first beta site provide computing devices for students on the way to a district-wide implementation. "The commitment to sustain a laptop program for our students could not have been accomplished without the leadership and support of our Superintendent, Mr. Steve Barnette, as well as our Board of Education," she said. "We are responding to the needs of our students, families, and teachers by providing the resources needed to Engage, Inspire, and Prepare all of our students for success."

One by one, each student at P.B. Ritch Middle School proceeded through a line in the school cafeteria where they were greeted by PCSD Technology staff who handed them a brand-new Microsoft Surface laptop that will help supplement daily instruction. After receiving their devices, students returned to their classrooms and watched a tutorial video to help them with the computer set-up.

P.B. Rich Middle School Principal Dr. Christine Carson said, "The Ritch Middle School staff and I are thrilled to be the first school to implement the one-to-one initiative in the Paulding County School District. The opportunity for our students to have a device in their hands each day will be a valuable resource to supplement the instruction provided by our teachers, and it will also give a tremendous boost to our STEM program."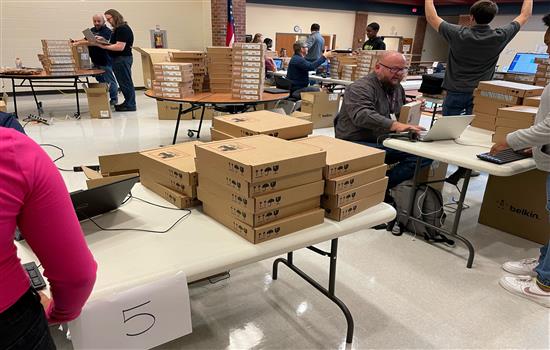 So far, 539 laptops have been issued to students. Over the next several months, more and more Paulding County students attending middle school, high school and the PCSD Virtual Academy will be offered laptops for use at home and at school. Elementary school students will be provided laptops for use in the classroom only. The program is scheduled to be fully implemented during the 2023-2024 school year.
Mrs. Ragsdale said the launch of the 1:1 initiative is another big step forward in accommodating shifts to digital and virtual learning opportunities. "The Paulding County School District recognizes the benefits of one-to-one technology within education to include broader student access and engagement as well as differentiated instruction and individualized pacing for learning," she said. "Individual devices provide the tool for accessing curricular applications and resources that are in digital format today within a learning management. The one-to-one device model has become the norm and expectation throughout the K-12 education system as content delivery methods have shifted to individualized, digital platforms."
Before laptops are issued, parent and guardians are required to sign an agreement through the Parent Portal and are also given the opportunity to purchase insurance for their student's device. Parents and guardians are also given digital safety and support tips. The laptops issued to middle school students will remain with them for three to four years. Should a student withdraw from a PCSD school, they will be required to return the laptop. The laptop and all accompanying accessories remain the property of the Paulding County School District.