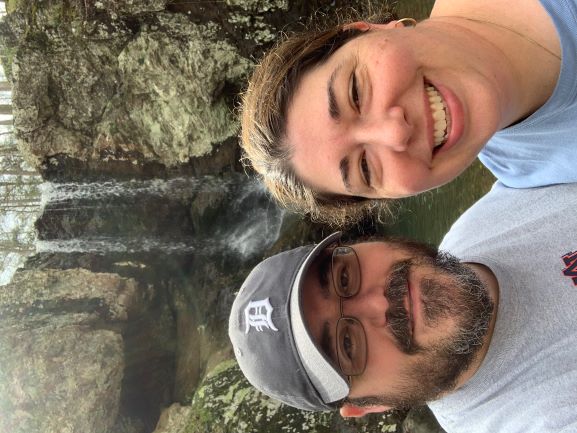 Where to begin? ...

Background:

I was born in Tacoma, Washington. By the time I was 8 and a half, I had lived in WA, VA, NJ, KS, and the Central American country of Panama. Then we moved to Jacksonville, Alabama. The treats of being an Army Brat. (Panama was awesome! The jungle was my back yard and undoubtedly sparked some of my earliest interests in science.) Once we reached Alabama, my mother dug in her heels and told my father, "I'm not moving again!" As a result, Jacksonville, Alabama is where I am proud to say "I'm from." Growing up in a college town was a blast, and working at the Jacksonville State University football games selling cokes as a kid sparked my early love for football. Prior to moving to Alabama, much of my "memorable" formative years were spent in Central America (Panama), so I was really only familiar with baseball and soccer.

Education:

Jacksonville (AL) High School- ('94)

Auburn University (AL) - BS in Biomedical Science ('98); BA in German & International Trade ('00)

Kennesaw State University (GA)- M.Ed. in Adolescent Education - Science ('06)

The University of Alabama- Ed.S. - Science Education ('15)

Professional Background:

I began teaching in 2000. I came to Paulding County in 2008 (SPHS) and I moved to EPHS in 2012.
Courses taught: on-level and honors Biology, on-level and honors Human Anatomy & Physiology, Environmental Science, Honors Biology II, and AP Biology.
Courses tutored: All of the above, plus chemistry, physics, physical science, zoology, college biology, and organic chemistry (college course).

Family:

My wife Dannison (also an Auburn grad) and I are the proud parents of three awesome kids: Avery (11), Riley Kate (8), and Will (6). My father also lives with us, and completes the 3rd generation of our household.

Interests/Hobbies:

I am an avid college sports fan and a regular attendee of Auburn University's athletic events. My family considers Auburn, AL our second home. This occupies much of my "free time" during the fall and winter. Professional sports teams of interest: Atlanta Braves, Tampa Bay Rays, Carolina Panthers, and all Detroit teams (long story). I also follow professional soccer very closely, especially Atlanta United, Manchester United, the USMNT and USWNT. In addition to sports, I enjoy hanging out with my family, playing team trivia, playing poker, video gaming, hiking, travel (I prefer mountains to sand, but my wife and kids disagree), crossing MLB and college football stadiums off my bucket list, watching my fantasy sports teams regularly implode, reading (non-fiction mostly, but some fiction sparks my interest), going to concerts, and spontaneous road trips (I'm famous for these).