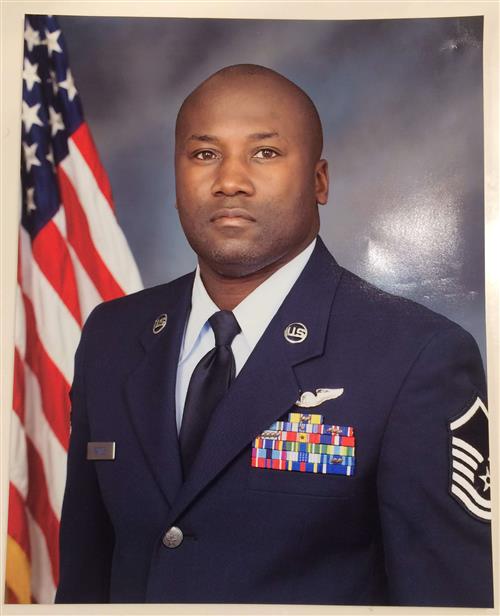 Phone: 770.445.5100 x29042
Email:
Degrees and Certifications:
Photography, BS - Syracuse University
MSgt Parker

Master Sgt. Stan Parker is an Air Force Junior ROTC Instructor. Sergeant Parker was born in Bronx, New York, but grew all over the world as an Air Force brat. He graduated from Crossland High School, in Temple Hills, Maryland in 1988.

He entered the United States Air Force, March 30, 1992, followed by completion of Basic Military Training at Lackland AFB, San Antonio, Texas and technical training at Lowery AFB, Denver, Colorado. His first assignment was at Vandenberg AFB, California, as an Imagery Production Specialist. The job required him to develop and process aerial reconnaissance film gathered by U2 aircraft (ultra-high altitude reconnaissance aircraft) during intelligence gathering. During his assignment to Vandenberg, he deployed with Combat Camera to document peace-keeping operations in Sarajevo, Bosnia-Herzegovina.

After five years at Vandenberg, he was selected to attend the competitive and Department of Defense-sponsored Advanced Military Photojournalist Program at Syracuse University. The year-long extensive training culminated with a follow-on assignment to the 1st Combat Camera Squadron, Charleston AFB, South Carolina, May 1998. His travels as an Aerial Combat Photojournalist haven taken him to many destinations around the globe to document the Air Force story, to include a deployment to Dar es Salaam, Tanzania to highlight relief operations following the US Embassy bombing in Tanzania and Kenya. He deployed to Italy and Spain to cover Air Force operations during Operation Allied Force (War over Serbia). He has also deployed to Thailand to cover Exercise Cobra Gold, which is the largest annual multinational military exercise in which the United States participates.

Follow on assignments after Charleston Air Force Base included: Kunsan Air Base, Korea; Offutt AFB, Nebraska; The National Reconnaissance Office in Chantilly, Virginia; and the Pentagon, Washington, D.C..

During his assignment in D.C., he deployed to Djibouti, Africa for six months, to assist with operations to enhance partner nation capacity, promote regional security and stability, dissuade conflict, and protect U.S. and coalition interests.

Upon departure from the Pentagon, in March 2010, he was assigned to the 615th Contingency Response Wing, Travis AFB, California. The 615th Contingency Response Wing was one of two Contingency Response Wings assigned to the Air Force's Air Mobility Command. Headquartered at Travis Air Force Base, California, the wing's primary mission was to employ rapidly deployable cross-functional teams to quickly open forward airbases in an expeditionary environment to meet combatant commanders' needs.

In May 2013, his last assignment on active duty was with the USAF Air Demonstration Squadron ("Thunderbirds") at Nellis AFB, Las Vegas, Nevada.

He retired from the USAF in September 2015 and became a JROTC Instructor, at Lakeside High School (GA-951) in Atlanta, GA.

He later moved to, East Paulding High School (GA-20051), in July 2017.

He has been married to his wife, Lachelle, for over 20 years. They have a son, Yousef and a daughter, Alivia.