Return to Headlines
PCSD Breaks Ground for New Middle School
Paulding County School District leaders, along with a host of public officials and community representatives, broke ground today on what will be the district's 10th middle school. The new middle school project in the Seven Hills Community, just off the Seven Hills Connector, is scheduled to open in August 2024 and provide capacity relief for McClure Middle School. The new middle school is the first step of a three-phase approach that will provide enrollment relief for the rapidly growing Burnt Hickory ES-McClure MS-North Paulding HS campus as more and more families move to Paulding County.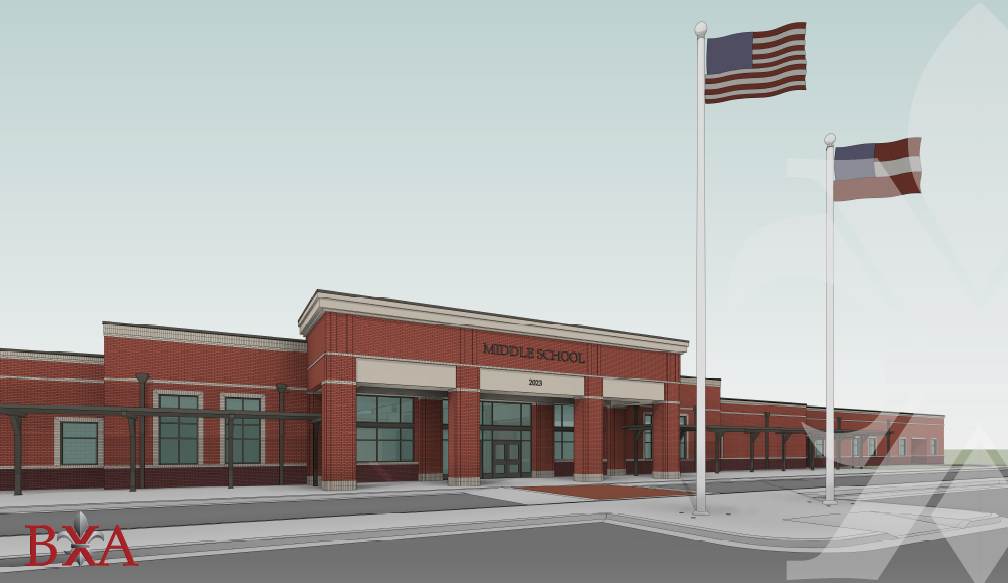 Following an invocation led by West Ridge Church Pastor Brian Bloye, and the presentation of colors by the North Paulding High School JROTC, Chief School Leadership Officer Jason Freeman opened the ceremony and said, "This is the beginning of a two-year project that will culminate in thousands of students walking the hallways of this school for years to come."
All members of the Paulding Board of Education were in attendance: Chairman Dan Nolan, Vice Chair Debbie Collett, Nick Chester, Adam Clayton, John Dean, Jeff Fuller and Theresa Lyons.
Chairman Nolan told the attendees, "This new middle school is the result of a community-wide effort, starting with our Education Special Purpose Local Option Sales Tax [E-SPLOST]. We take the stewardship of the resources entrusted to us by the taxpayers of Paulding County very seriously. The overwhelming support for our E-SPLOST program shows th
at Paulding County is a community that values education and understands the growth challenges we face."
Other speakers included PCSD Superintendent Steve Barnette, Chief Academic Officer Tiffany Frachiseur, Chief of Staff Dr. Jason Gregaydis, and Associate Superintendent Dr. Susan Browning who oversees the district's capital improvements program and coordinated the groundbreaking event.
Mrs. Frachiseur spoke about

the importance of continuing to move Paulding County education forward. "Classroom teachers working to integrate digital instruction, principals positioning their schools for STEM certification, district directors and administrators who secure partnerships and grants for innovative programs, central office leaders engaging stakeholders to develop long range plans for the future, and school board members developing board policies which support innovation -- all facets of the Paulding County School District are designed to cohesively accomplish the vision of preparing all students for success," she said.
A few special guests also attended the ceremony. Zachary Minter, Kennedy Anavitarte and Koi Hillman are fourth grade students at Shelton Elementary. They will be among the first class of students who will walk the halls of the new middle school once it is completed. The students entertained the audience by sharing what they hope to experience as students at the new school, including their preference for mascot – coyote, koala, and butterfly – and their dream lunches of pizza every week, macaroni and cheese, and every kind of chicken.
Superintendent Steve Barnette said, "The middle school project will be fun to watch over the next 18 months or so as this new school rises-up and goes from concept to design to reality and becomes our 34th school." The new school was designed by architectural firm Breaux & Associates and will be constructed by R.K. Redding Construction. Multiple representatives, including Douglas Breaux of Breaux & Associates Architects, and Casey Pollard of RKR Construction, attended the groundbreaking ceremony.
The new middle school will be located on property between Seven Hills Boulevard and Westbrook Creek Road and Garnet Drive in Northeast Paulding County. It will house 66 instructional units with a capacity of 1,050 students. The overall floor plan is 148,000 square feet. The estimated budged for new school is just over $46M. The new middle school will be designed similarly to P.B. Ritch Middle School and Scoggins Middle School.
Superintendent Barnette said, "While much of that work has obviously been focused on the 'bricks and mortar' that goes into the construction of a school – ultimately, a building is just a means to an end, a tool we will use to prepare our students for success. As important as the school building is, it is nowhere near as important as the many people who will occupy this building after its doors are open." Mr. Barnette also mentioned that by providing relief for McClure Middle School, the new middle school will only begin to address the capacity needs on the North Paulding campus. Near future projects in the planning and design stages include a 20-classroom addition for Burnt Hickory Elementary School and a 40-classroom addition for North Paulding High School.
The ceremony was attended by a wide range of community leaders, including State Sen. Jason Anavitarte, State Rep. Joseph Gullett, Paulding County Commission Chairman Dave Carmichael, and Commissioner Brian Stover.
Commission Chairman Carmichael said, "We're just real excited about educational advancement. This is going to be wonderful for the north part of the county and to balance out the middle schools. The population is growing up here and it's going to continue to grow."
After the presentations, members of the Board of Education put shovel to dirt and broke ground to officially launch the construction phase for the new middle school. Seven Hills residents will see the project under way in the coming days.
The Board of Education will initiate a process to name the new school beginning in 2023, with a name expected to be assigned to the school in the fall 2023. The process will include community representation and input. The school's administrative staff will be assigned shortly after naming process, and a full year before the school opens. Once completed, the new facility will be the district's 10th middle school and 34th school overall.