Return to Headlines
PCSD Schools Shine in STEM Challenge
Congratulations to Burnt Hickory Elementary School, Shelton Elementary School, and Russom Elemen
tary School for their amazing

performance in the
recent Build With
Breaux STEM Challeng
e sponsored by Breaux Associates Architects! Each school will receive a monetary award from BXA to go toward the purchase of a new 3-D printer. Here is the
breakdown of awards:
Burnt Hickory ES, 1st Place, $1,500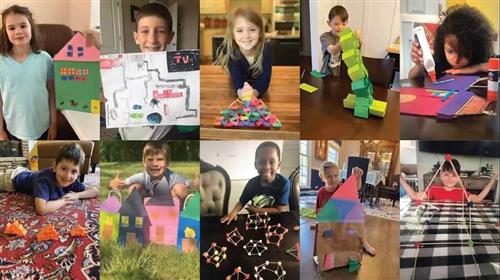 Shelton ES, 2nd Place, $750
Russom ES, 8th Place, $360
Letter sent to PCSD by Breaux Principal Douglas Breaux:
"In our continued support of STEM education, BXA has created and hosted a social media STEM Challenge for elementary school students across Georgia. The
#BuildWithBreaux
Challenge asked students (or parents or teachers) to post student's completed Architectural STEM Activities on Twitter, Instagram or Facebook. After two months of activities, the elementary school with the most unique posts would be awarded a new 3-D Printer from BXA.
With the support and enthusiasm from teachers and administrators, the STEM Challenge took-off and was a huge hit. There were well over 1,200 posts from elementary schools in Georgia alone, plus posts from other states. In fact, Paulding Co. School System delivered a great response with not one, not two, but three (3) schools finishing in the Top 10 – with Burnt Hickory Elementary finishing in 1st place AND Shelton Elementary finishing in 2nd place AND Russom Elementary finishing in 8th place! Congratulations to all three elementary schools' administration, staff, parents and students for this very strong showing!! Plus, a very deserved call-out for Sarah Graham for her guidance and support and to Ms. Laura Gregaydis for being an amazing motivator and cheerleader!
For their top finish with 395 unique posts, BXA will donate $1,500 to Burnt Hickory Elementary School toward the purchase of a new 3-D Printer and supplies.
Due to the overwhelming response to our
#BuildWithBreaux
Challenge, we have decided to award prizes to the top finishers.
Shelton Elementary competed strongly with a 2nd place finish. BXA will donate $750 to Shelton ES toward the purchase of a new 3-D printer.
Russom Elementary had 36 unique posts resulting in a 8th place finish. BXA will donate $360 to Russom ES toward the purchase of a new 3-D printer.
Congratulations to Paulding Co. Schools, Burnt Hickory Elementary, Shelton Elementary, Russom Elementary and all that participated in their strong performances! Visit GeauxBreaux.com for the Top 10 Finishers' video (video link) and the
#BuildWithBreaux
STEM Challenge activities (STEM link)."