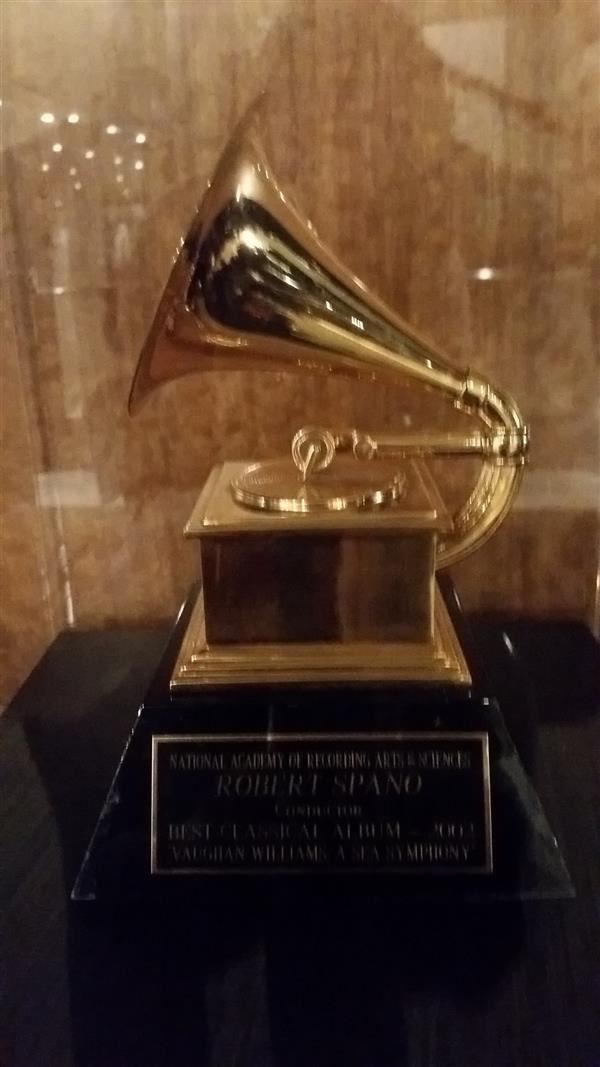 I have been teaching middle school for 18 years and I have been at SMMS since it opened in 2007. I have taught Orchestra and Drama and I currently also teach Chorus and Music Appreciation.

I have sung with the widely acclaimed Atlanta Symphony Chorus and Chamber Chorus for 16 years. I have made various recordings and won several Grammy Awards. I have met and worked with various famous people like Yo Yo Ma, James Taylor and Howard Shore. I have traveled to perform in Chicago, New York and Berlin, Germany.

I have finally finished Masters and Specialist degrees in Educational Technology at Boise State University and the University of West Georgia.

My email address is ldean@paulding.k12.ga.us

DISCOGRAPHY

Beethoven: Symphony No. 9 in D-Minor, Op. 125 (2003)
Beethoven's final symphony, led by the ASO's Principal Guest Conductor, Donald Runnicles.


Berlioz: Requiem
Performed by Robert Spano and the ASO Chorus, this is "the ASO Music Director's finest recording to date, and it's one of the best for the Orchestra and Chorus since the heyday of Robert Shaw," according to the Atlanta Journal-Constitution. The review, which also praised ASO Director of Choruses Norman Mackenzie, said the Chorus's "power, agility and emotional profundity is unsurpassed among American symphonic choirs."
Grammy Winner: 2005 Best Choral Performance

Brahms: Ein Deutsches Requiem
Robert Spano's 2007 account of Brahms' masterpiece,featuring Twyla Robinson and Mariusz Kwiecien.



Del Tredici: Paul Rever's Ride, Theofanidis: The Here and Now, Bernstein: Lamentation from "Jeremiah" Symphony
The world-premiere recording of two 2005 ASO commissions for Chorus and Orchestra with the solo vocal finale of Bernstein's famous Symphony, conducted by Robert Spano. READ THE GRAMOPHONE REVIEW.

Golijov: Ainadamar ("Fountain of Tears")
This groundbreaking first opera by Osvaldo Golijov stars Dawn Upshaw and features the women of the ASO Chamber Chorus. With its Andalusian musical palette, the opera imagines the final days of poet Federico Garcia Lorca as seen through the eyes of Spanish actress Margarita Xirgu. This world premiere recording is conducted by Robert Spano. Grammy Winner: 2007 Best Opera Recording

Golijov: Oceana
The jazz- and Latin-tinged Oceana, features chorus and orchestra, guitars, harp, percussion and voice; played by the Los Angeles Guitar Quartet and the Atlanta Symphony Orchestra and Chorus under Robert Spano, with Brazilian jazz singer Luciana Souza. Also on the disc is a searing reading of the string quartet Tenebrae (by the Kronos Quartet) and the Straussian Three Songs with the luminous Dawn Upshaw. Read the GRAMOPHONE review.


Holst: The Planets
In Telarc's spectacular Surround Sound, Yoel Levi leads the ASO in one of the most popular and colorful pieces of classical music ever written for orchestra. The women of the ASO Chorus create an atmosphere of ethereal mystery in the final movement, "Neptune."

Mahler: Symphony No. 2 in C minor "Resurrection"
Led by the ASO's Music Director Emeritus Yoel Levi, with radiant soprano Barbara Bonney.

Orff: Carmina burana
ASO Principal Guest Conductor Donald Runnicles makes his Telarc recording debut in this thrilling new ASO performance of "Carmina burana." This modern musical setting of twenty-five earthy, secular poems by medieval Bavarian monks is sung in Latin and Middle High German.



Robert Spano's concert version of the complete opera recorded live in Symphony Hall, September 2007. Also featuring the ASOC and the Gwinnett Young Singers. Read the reviews.

The world premiere recording of Theofanidis's 2014 original composition. The work's clever interweaving of texts and ideas from philosophy, science, religion, poetry, and literature gives, as Theofanidis describes, a "profoundly deeper understanding of the relationship between these two subjects and to remove a limiting sense of a passive relationship between 'God' and humanity." -Robert Spano conducting.

Vaughan Williams: A Sea Symphony

The first contemporary recording of an American conductor performing Vaughan Williams' First Symphony promises to become one of Telarc's most legendary discs for performance and sound. ASO Music Director Robert Spano conducts.

Grammy Winner: 2002 Best Classical Album and Best Choral Performance

At Carnegie Hall in New York.

In Berlin, Germany with the Berliner Philmarmonie

In Auburn, AL

Backstage at Atlanta Symphony Hall (with my previous students who are now in the ASOC with me).