Return to Headlines
Foundation Awards $3,000 Grants to Four Schools

On Dec. 4, 2019, the Paulding County Education Foundation awarded $3,000 grants to four PCSD schools: Dugan Elementary, Northside Elementary, P.B. Ritch Middle, and South Paulding High. Here's a summary of how each school will use the grant money:
Dugan Elementary School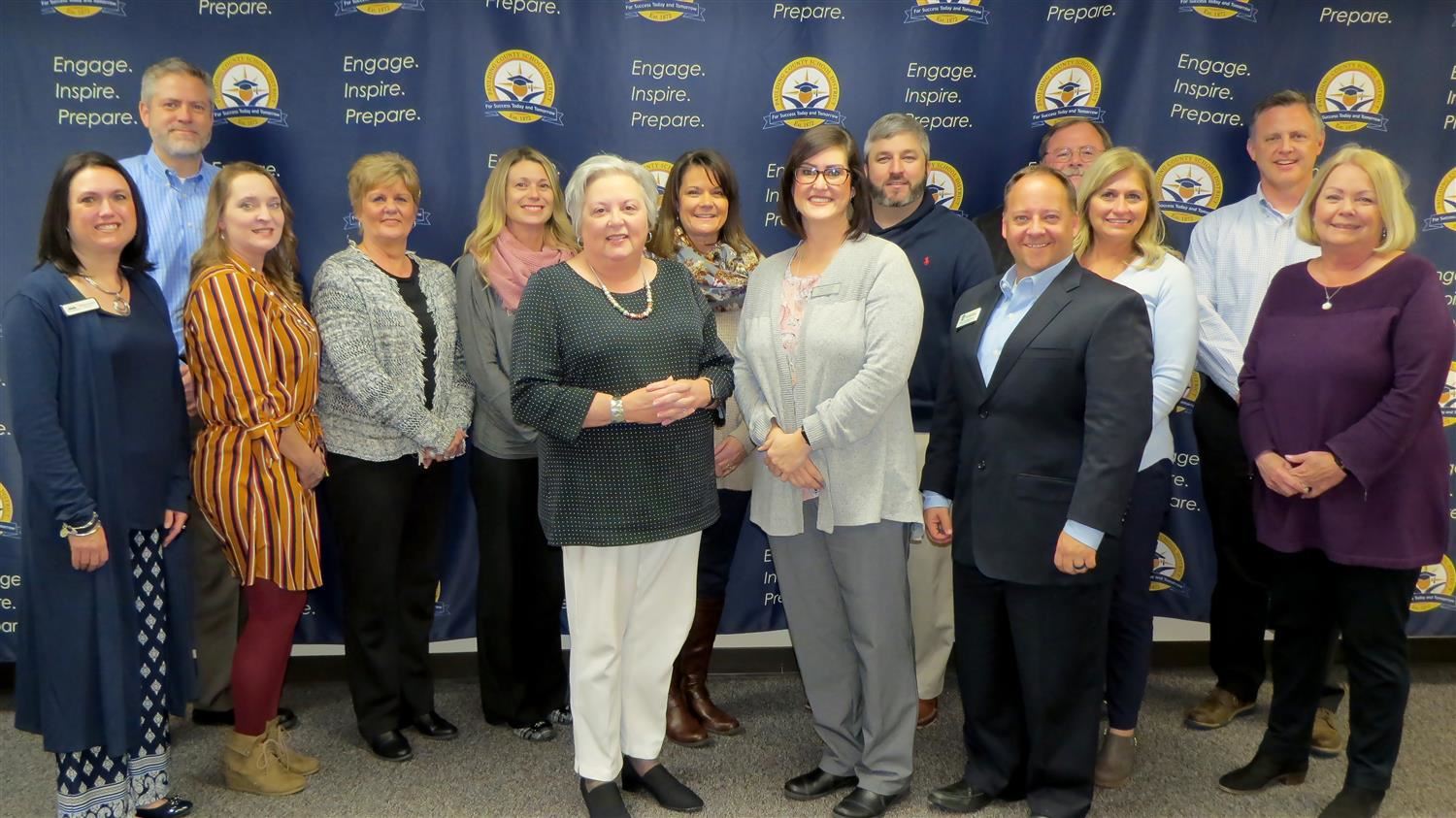 Dugan Elementary School Assistant Principal Tracy Gaynor (center) who wrote the grant for STEM activities with the Dugan Science Olympiad team, poses with members of the Paulding Education Foundation after receiving the $3,000 grant.
The grant money will be used to purchase robots for Dugan's first ever Robotics Club. In August, a parent met with Ms. Gaynor and expressed a desire to share his knowledge and passion about robotics and coding with our students. At Dugan, we have the knowledge base (parent offering to volunteer), a willing county sponsor (Ms. Gaynor), a group of interested students (Dugan students and our neighboring students at SPHS), and the energy and enthusiasm, but we lack the funds to purchase the robots.
The goals of the Robotics Club are to INSPIRE our students to become science, technology, and innovative leaders, ENGAGE them in exciting programs that build science concepts, provide an opportunity for our SPHS students and parent volunteers to mentor and share their love and passion for robotics and coding with our students, PREPARE out students and SPHS students for science related careers.

The Robotics Club will be beneficial to our students because they will be challenged by learning new concepts, working collaboratively with students, parents, and other high school students, increase their opportunities to problem solve and be creative with technology. At the beginning stages of the Robotics Club, 20 elementary and 10 high school students will initially benefit. However, the materials purchased using the grant money will also be available for check out for Dugan's STEM teacher and SPHS Science teachers. The Robotics Club is innovative at Dugan Elementary because our students have very limited experience with robotics and coding activities. Also, by adding the mentoring piece of including like-minded science students from SPHS increases the uniqueness and innovation to our Robotics Club setting it apart from other clubs. Our elementary students will benefit greatly from the passion and expertise of our parent volunteer and will also benefit by building a mentor relationship with other science students from SPHS.
Northside Elementary School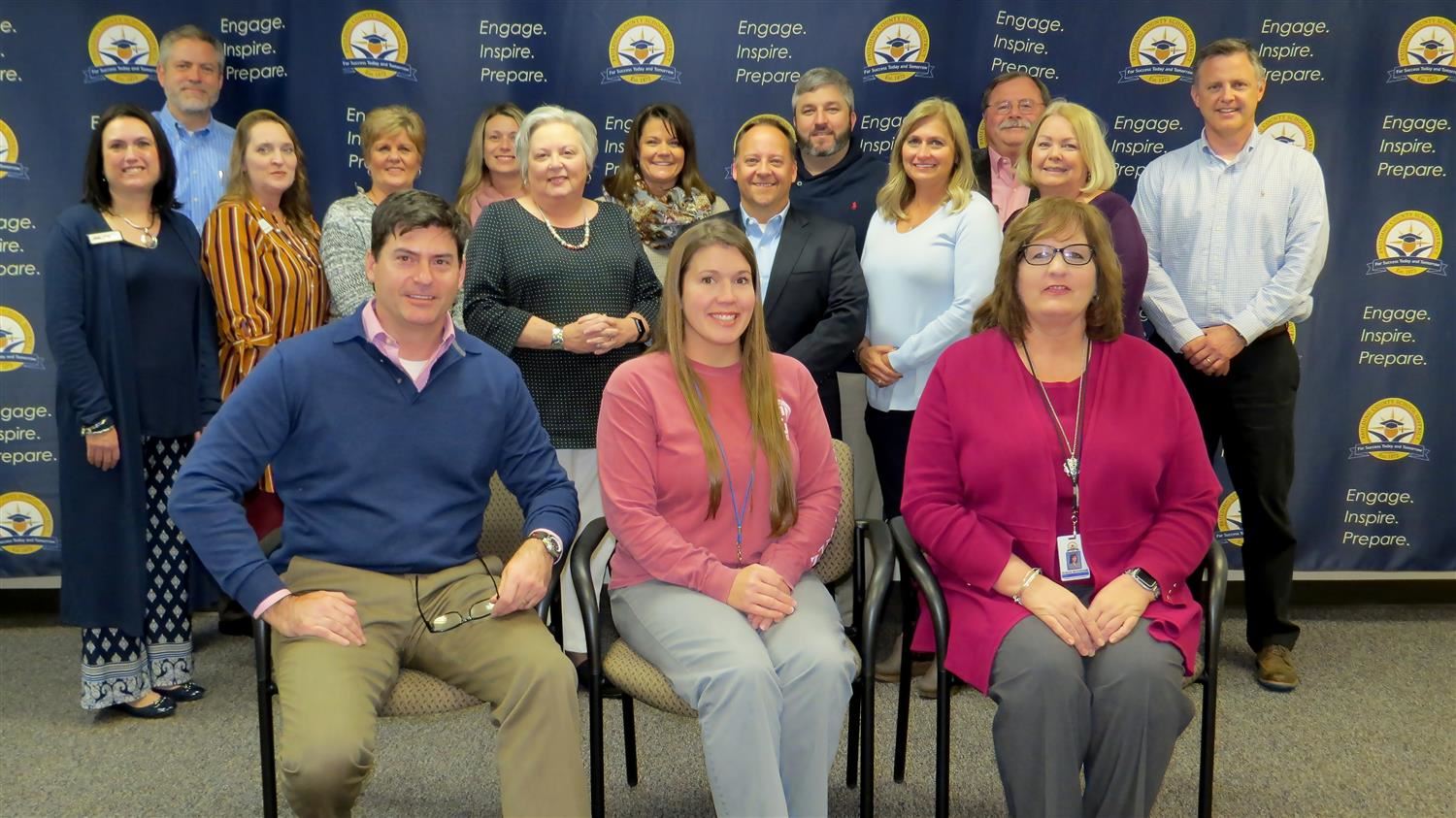 Dr. David Ehrler, school psychologist (seated left), and ESEP teacher Jordan Ridings (seated center), who collaborated to write the grant for Northside Elementary ESEP students who are struggling with reading, pose with members of the Paulding Education Foundation and Northside Elementary Principal Susan Woodham (seated right).
The PEF grant will be used to research and implement strategies to meet the needs of students identified with dyslexia. The funds will be used on a research-based dyslexia screener and research-based dyslexia instructional model with the goal to tailor reading instruction to meet the individual needs of each student.


P.B. Ritch Middle School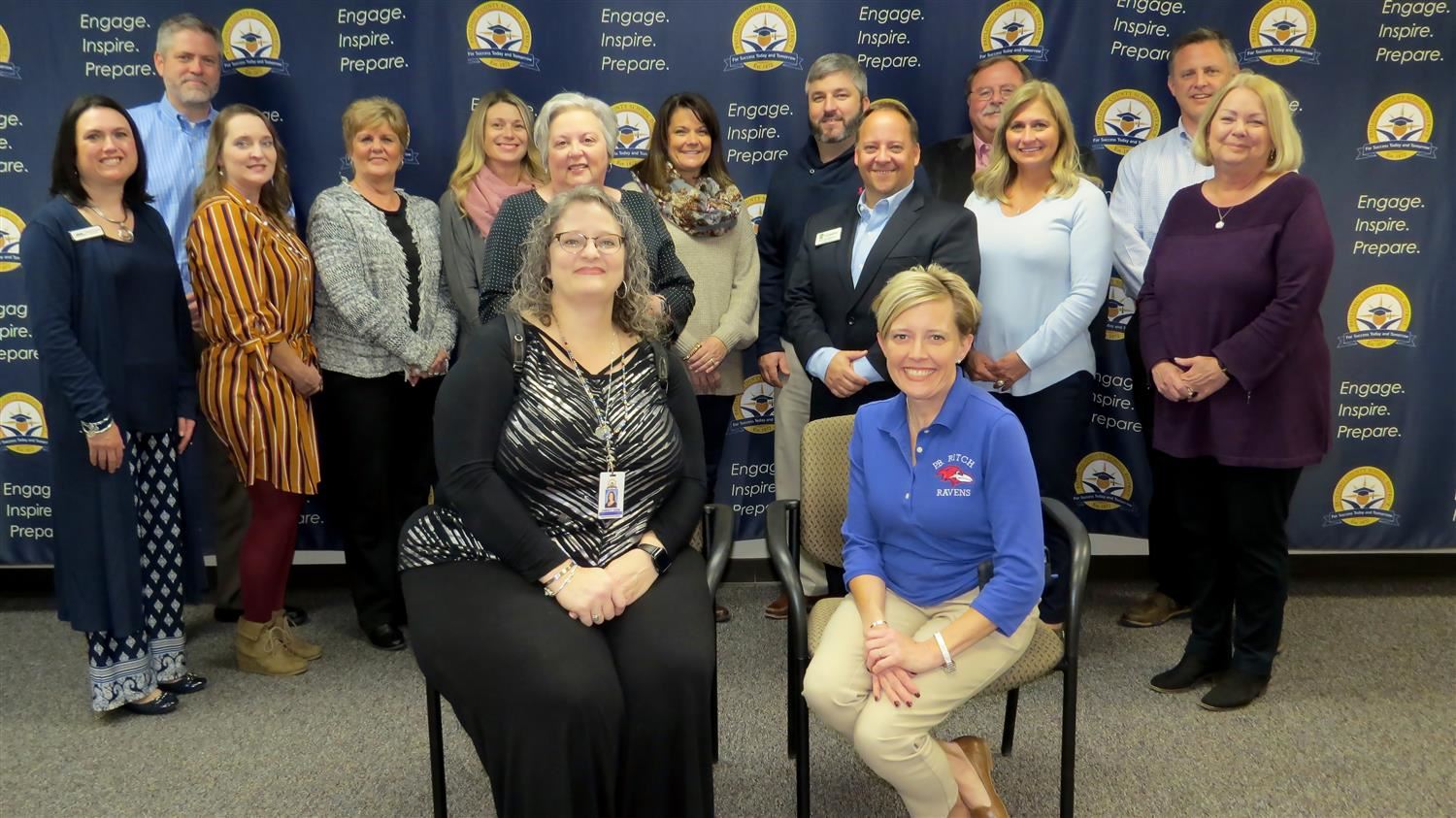 P.B. Ritch teacher Christy Dion, who wrote the grant application, and Principal Christine Carson (both seated) pose with members of the Paulding Education Foundation after receiving their $3,000 grant award.
This grant will be used in the creation of the outdoor STEAM garden and classroom. In the garden students will be able to conduct STEAM investigations, create unique sculptures through an art initiative, as well as create authentic poems, narratives, and Science projects which will be displayed and presented at special nights in the garden for parents and community. Students will also be able to utilize the classroom for unique STEAM lessons during the school day. This classroom will also be a valuable resource to the school STEAM initiative that started this year in the 6th grade. The students in 6th grade are participating in a year-long STEAM project to create a rain garden. They will research and complete activities across the curriculum to research and investigate how to create, as well as why they are environmentally useful to the community for clean water, and for food.
South Paulding High School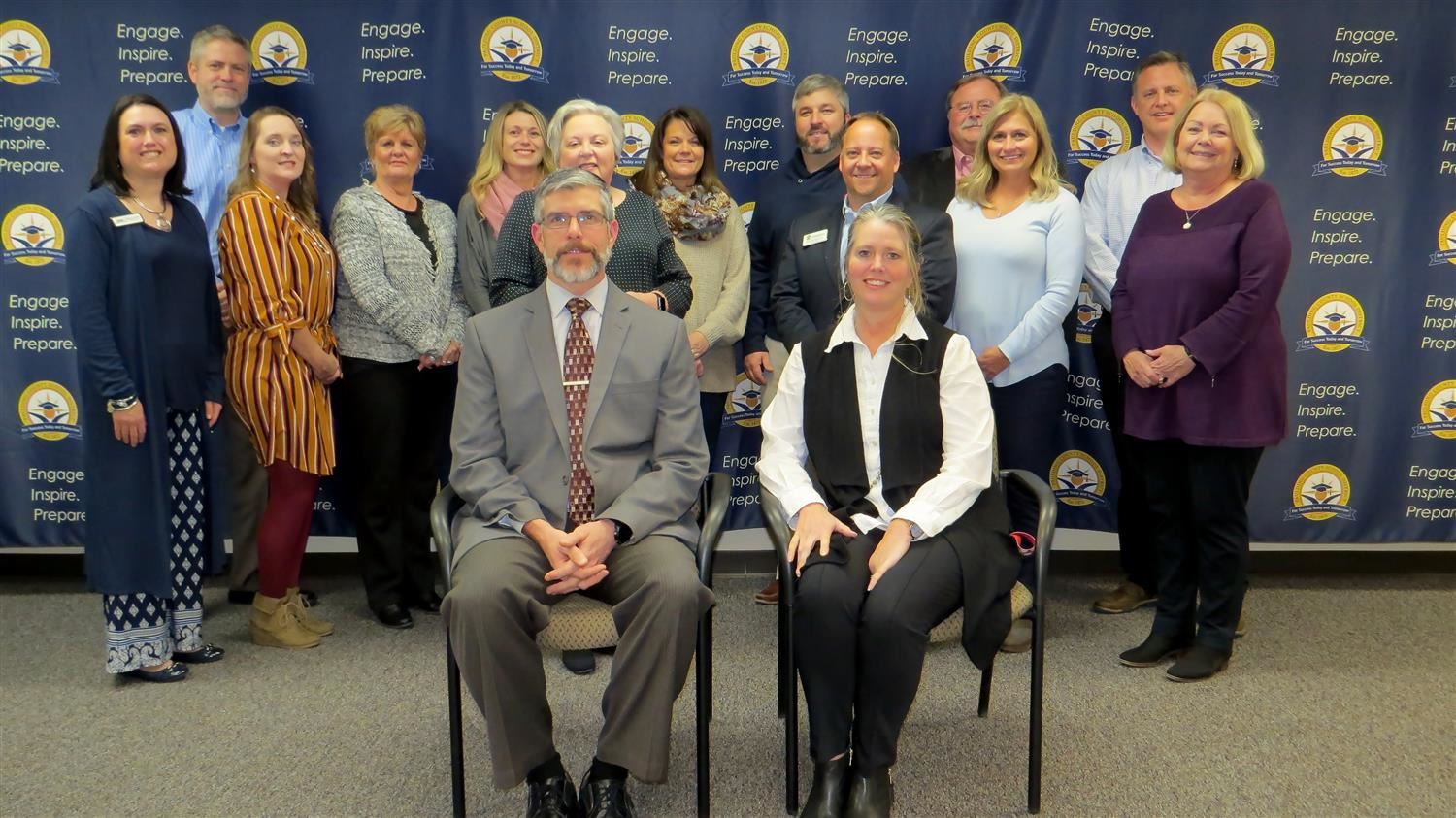 South Paulding High School Principal Keith Rowland and Math Department Chair Lyn Dedman, who was part of the grant-writing team, (both seated) pose with members of the Paulding Education Foundation after receiving their $3,000 grant award.
SPHS has embarked on a three-step action plan process that will create a multidisciplinary school wide project. Our STEM program focuses on innovating creative ways for a sustainable future. We have already secured funding and purchased a wind turbine and solar panel combo that is to be erected as a standalone off grid system. We would like to run this energy source to an aquaponic system inside a greenhouse structure. Part 1 was to secure the funding for the aquaponics model tank and turbine construction, and that has been accomplished. We are seeking funding for part 2 and 3. Part 2 of the action plan is to construct an attractive model greenhouse to hold the power and aquaponic system. This chalet greenhouse will be assembled and modified by our students from three different areas, Math, Science and CTAE. Part 3 will begin a community and school wide effort to build onto the model system. Students from all over the county and SPHS feeder schools, will collect plastic 2L bottles to build walls that will extend the greenhouse. We are seeking funding for part 2 and 3, the purchase of the model greenhouse and construction materials in order to assemble the 2L bottle walls. This project allows our students to be innovative by designing a school greenhouse by using non-biodegradable trash (2 L bottles) and then re-purposing it in a sustainable way. The goals of this project are to get students thinking about the future, utilizing critical thinking and problem solving, collaborating and working with others to solve a common challenge, and communicating their successes and failures in a coherent way. This project supports these goals by allowing students to design, collect data from, and engineer solutions for a model/miniature of an off-grid self-sustaining plant and animal aquaculture system. The possibilities for student involvement are endless. The greenhouse will be accessible and utilized by all SPHS students through their mathematics, science, and specific CTAE pathways therefore all students in the school will be involved in various ways. We will impact all SPHS students subsequently through their required math and science credits. Teachers can involve their students through our STEM Initiative this year and through their math and science curriculum. Many teachers and students from diverse content areas as well as community partners will construct the bottle made walls as the extension of this model. This project will allow collaboration amongst all SPHS high school students, our feeder students and community to work together and connect through the bottle collection process and construction of the greenhouse walls. The students can even write their names on the bottles and perhaps one day, when they are in high school, find their bottle in the greenhouse walls. The benefits of this project include student and community involvement as well as solving a community recycling problem. The project demonstrates innovation by allowing students to take trash that is non-biodegradable and design solutions to re-purpose these materials in a sustainable way.