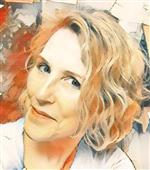 Phone:
Email:
Degrees and Certifications:
B.S. Art from the University of Montevallo B.S. Mathematics form the University of Montevallo
Mrs.

SuZanne Peters

Who is the "Crazy Cat Lady of Hiram High School"? That would be me, Mrs. Peters! To see pictures and more just follow this link "slide show."

I have degrees in Fine Arts as well as Mathematics. I have published and sold paintings. I like to think that the artist in me is able to help students "see" mathematics. I've been teaching for over 20 years. (yes I'm really that old) I absolutely love teaching high school students. They are what keep me young and challenged. Every day is a new day with new challenges.

I teach using the "Flipped Classroom". The idea is to switch around the traditional order of teaching with the purpose of creating a more in depth and supportive environment in the classroom when the teacher is present and able to help students. It allows for students to receive a more individualized math education. (Less teacher talk, more teacher help!)

For "homework", students will be required to watch videos lectures created, edited, and produced by me. I will teach them the lesson and give examples in the same way they would receive it in class. However, because the students are watching the lessons on video, they can pause, rewind, or replay any segments of the video at any time. This is an activation strategy when addressing new content. While watching the videos, students will be taking notes which I will check at the beginning of class the next day. So the video must have been watched before that class period.

What does a "flipped classroom" require of you as a parent/guardian? If you would like to know more, please follow this link to see more fully what a flipped classroom is about, there is also a video.

The classes I teach do not have an official "textbook", I use my website and canvas as my resources to assist students/parents with mathematics. My website is mathisfunpeters.weebly.com.

Keep Calm and Meow On!