Return to Headlines
PCSD Teacher of the Year: Chelsea Sell, Austin MS
FOR IMMEDIATE RELEASE May 8, 2019
PCSD Honors Top Teachers, Employees,
Names District Teacher of Year for 2019-20
Chelsea Sell, an energetic science teacher at Austin Middle School, has been named the Paulding County School District's 2019-20 school district Teacher of the Year. Ms. Sell was revealed as the district's top teacher at a luncheon ceremony at West Ridge Church that honored the Teachers of the Year from each of the school district's 33 schools, plus the Employees of the Year from each of the district's operations departments.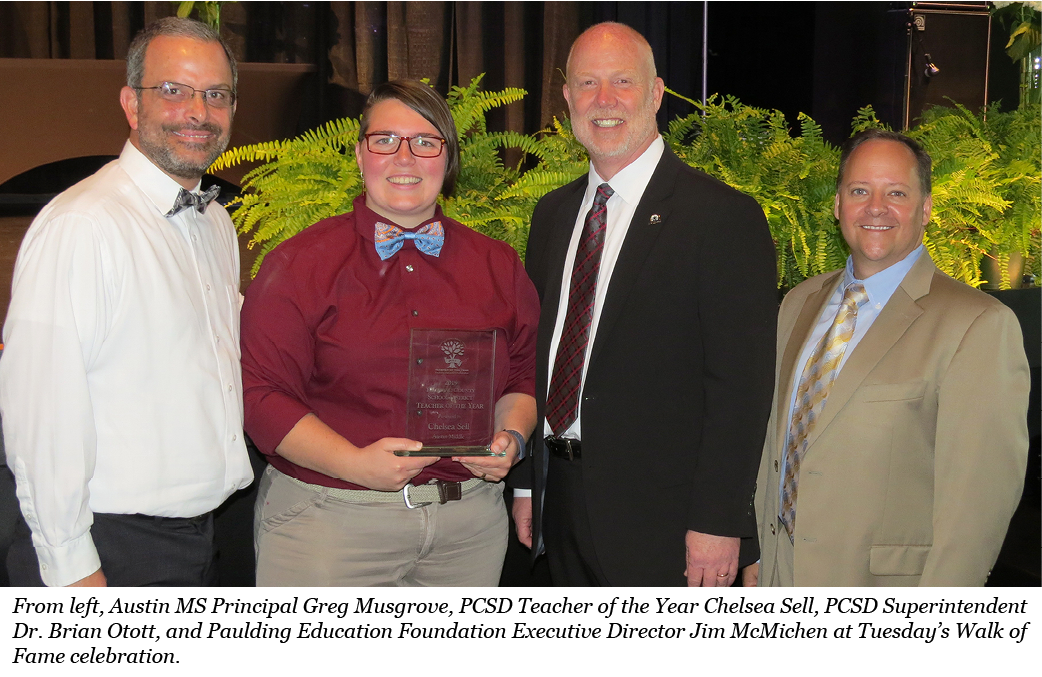 Allison Townsend, a Fulton County Schools teacher who is Georgia's 2019 Teacher of the Year, gave the keynote address and presented the recognitions. The annual event, dubbed the Walk of Fame Annual Star Banquet, is hosted by the Paulding Education Foundation with the help of multiple sponsors, including lead sponsor MembersFirst Credit Union. Also in attendance were elected officials including school board members, school principals, school district employees, students from the East Paulding High JROTC who presented the colors, and the Paulding County High School Culinary Arts program who prepared and served lunch.
"The teacher Walk of Fame is a hallmark event for our school district," said PCSD Superintendent Dr. Brian Otott. "Since this is Teacher Appreciation Week across the nation, it's a great time to recognize the excellent teachers and employees in our district who engage, inspire and prepare students each and every day. There's no question that our teaching staff and our employees are second-to-none. I want to congratulate Chelsea Sell for being named district Teacher of the Year. She is a superb teacher at Austin Middle School, and I know she will represent us well."
Ms. Sell has been teaching 6th grade science and social studies at Austin Middle School for the last four years. She has been a teacher for eight years total, since graduating from Georgia Southern University and beginning her teaching career in Douglas County. She instills passion, confidence and curiosity in her students and maximizes student engagement with her energetic demeanor, which has been described as "infectious". Her students are actively involved in their education through animated discussions, group projects, and hands-on learning.
"She loves teaching, and that passion comes out in her classroom every day," said Austin Middle School Principal Greg Musgrove. "She's dancing, she's singing, she does whatever she has to do to get the message across to the students. I remember the first time I stopped by her classroom and she was creating an educational rap song with the kids and I thought, 'Now this is an amazing teacher right here.' She just connects with the kids. She's like the spark plug for the 6th grade."
Ms. Sell uses fun bow ties (on Tuesdays), silly socks, fictitious stories, science songs, and even dancing to keep her students on their toes. You never know what will happen next in her classroom. But she knows the effects are just a part of the larger effort of preparing students for high school and beyond, and to do that she knows they must be engaged.
"People ask me 'Where do you get all of that energy?' and 'How do you have so much energy?'," Ms. Sell said after Tuesday's event. "It's just all there all the time. It's not a show. It's not an act. It's just who I am. I love kids and I love being around people, and I am the biggest extrovert you will ever find. So meeting new people is the energy that I get, and then I give that energy back to them."
As a science teacher, she really believes in the value of the STEM (Science, Technology, Engineering, and Math) curriculum. She describes an experiment where she has students place a flat sheet of tin foil on top of water so it floats, and then she challenges them to make the tin foil sink without adding any weight or mass. Eventually the students figure out that if they fold or ball up the tin foil, increasing its density, it will sink. They learn in a very visual way the similarities and differences of weight, mass and density. "STEM is one opportunity that kids have to put their critical thinking to use and learn how to solve problems," she said. "When you are doing a STEM project and you see those light bulbs go on, that's the best part of teaching."
In the Paulding County School District, each of the district's 33 schools names a Teacher of the Year by a March deadline. Each school-level Teacher of the Year then submits an application to the district, and those applications undergo a third-party review resulting in a recommended district-wide Teacher of the Year. Following review of the recommendation, the district then names its district-wide Teacher of the Year in the spring. The TOTY serves the following school year and becomes eligible to be named Georgia Teacher of the Year.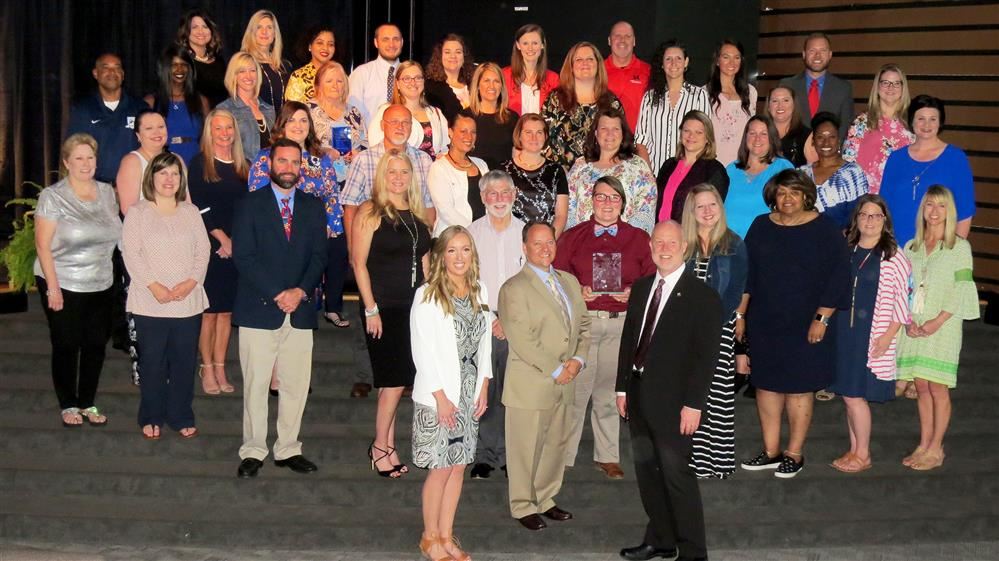 Group photo of PCSD Teachers and Employees of the Year. In front, left to right, are Georgia Teacher of the Year Allison Townsend, Paulding Education Foundation Executive Director Jim McMichen, and Superintendent Dr. Brian Otott.

| | | | |
| --- | --- | --- | --- |
| SCHOOL | TEACHER OF YEAR | DEPARTMENT | EMPLOYEE OF YEAR |
| ABNEY | Katie McAllister | SCHOOL SUPPORT SERVICES | Melanie Ackerson |
| ALLGOOD | Lisa Carson | DISTRICT SUPPORT SERVICES | Katie Anderson |
| AUSTIN | Chelsea Sell | SCHOOL INSTRUCTIONAL SUPPORT | Stephen Cochran |
| BAGGETT | Kristen Cook | MAINTENANCE, OPERATIONS & FACILITIES | Joel Davis |
| BURNT HICKORY | Alisha Collins | SCHOOL LEADERSHIP | Tiffany Frachiseur |
| DALLAS | Stephanie Atkinson | SCHOOL NUTRITION | Amanda Hicks |
| DOBBINS | Rosemary Dixon | TRANSPORTATION | Maxi Johnston |
| DUGAN | Kim Leonard | | |
| EPHS | Barbara Miller | | |
| EPMS | Breanne Wood | | |
| HERSCHEL JONES | Dana Head | | |
| HIRAM | Beth Gandy | | |
| HHS | Ashley Poole | | |
| HUTCHENS | Marie Owen | | |
| MCCLURE | Gretchen Curl | | |
| McGARITY | Liza Norman | | |
| MOSES | Scott Collier | | |
| NEBO | Andrea DeRamus | | |
| NEW GEORGIA | Michelle Raveneau | | |
| NPHS | MSG Monte Briggs Sr. | | |
| NORTHSIDE | Morgan Gordon | | |
| P.B. RITCH | Kimberly Ramsey | | |
| PANTER | Rachael Irle | | |
| PCHS | Jayson Hart | | |
| POOLE | Sarah Hatzileris | | |
| RAGSDALE | Heather Musgrove | | |
| ROBERTS | Shannon Mohammed | | |
| RUSSOM | Meredith Lowe | | |
| SCOGGINS | Billy Fountain | | |
| SHELTON | Melodie Whatley | | |
| SPHS | DJ McConnell | | |
| SPMS | Stephanie Foreman | | |
| UNION | Mary Beth Munoz | | |
Press Inquiries Please Contact: Paulding County School District Communications Office
communications@paulding.k12.ga.us
(770) 443-8000