Return to Headlines
School Board Recognitions Nov. 13, 2018
Presentation of Colors
The Paulding County High School JROTC led off the Nov. 13, 2018 Board of Education meeting with the presentation of colors.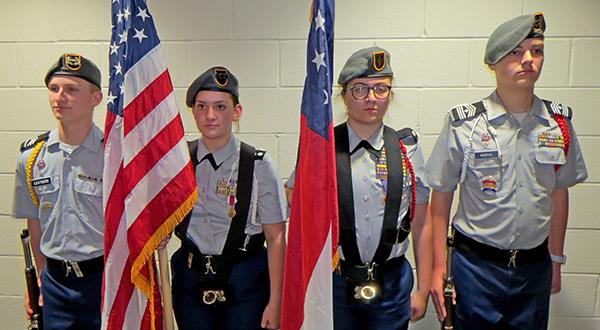 Pictured left to right are: Cadet Captain Jasmine Lamar, Cadet command sergeant major Cameron Longwell, Cadet Major Yannceley Armand, Cadet Major Francis Combee. The PCHS JROTC Color Guard is led by instructor Col. Greg McAfee.
Character Education
This month students from Allgood, Dallas, Poole, Ragdale Elementaries, Herschel Jones Middle School, and Paulding County High School were recognized as award recipients for the character trait of School Pride. These students are excellent examples of School Pride which was the Character Education trait for the month of October.
Shemar Callico, a 5th grader at Dallas Elementary School, shows school pride every day when he walks into the door with a giant smile on his face. He is an active member of the school's morning announcement team, where he talks about the daily activities going on at Dallas! Way to go, Shemar!
Leigha Gilmore, a 5th Grader at Poole Elementary School, shows school pride because she is always going out of her way to keep our environment clean! She helps out by picking up after others. She also works hard and is proud to be at Poole. She shows that pride by being respectful of school rules and all people around her. She shows her school pride in her actions.
Maggie McClung, an 8th Grader at Herschel Jones Middle School, always exhibits a friendly and positive attitude. She is proud to be a Herschel Jones Tiger and does her best to always be READY, RESPECTFUL, and RESPONSIBLE. Anytime there are themed activities like homecoming week and Red Ribbon week, Maggie participates and is a shining example in creating a positive school climate through school pride and participation. Great job, Maggie!
Mattie Kate Ford, a 4th Grader at Ragsdale Elementary School, is the perfect representative for Ragsdale Elementary's School Pride winner. She was chosen for this character trait because she always shows pride in her school by participating in anything the school promotes. She takes pride in her work and always does her best, she shows pride in her attitude to others at school and she is always excited to be at school and learn new things. Mattie Kate is a great example for the students in her class and at Ragsdale! Way to go Mattie Kate!
Holland Ricky Pierre, a 5th Grader at Allgood Elementary School, was nominated by his homeroom teacher. She said Ricky demonstrates school pride everyday! He likes to help his peers daily. When they are not doing what is expected, he wants to assist them so that they may do so. He is also very active at school by participating in numerous groups and clubs, both during and after school, including Safety Patrol, Chorus, Honor Chorus, and Gators Go Green. Way to go, Ricky!
Brendan Sheehan, a Senior at Paulding County High School, is an excellent representative of School Pride! He starts off our Patriot day by sharing the announcements with students and staff. To add to the everyday announcements, he spends time to research movies, sports, and pop culture. He is an active athlete, our 2018 Homecoming King and an overall excellent student! He is truly enthusiastic about PCHS and we are lucky to call him ours!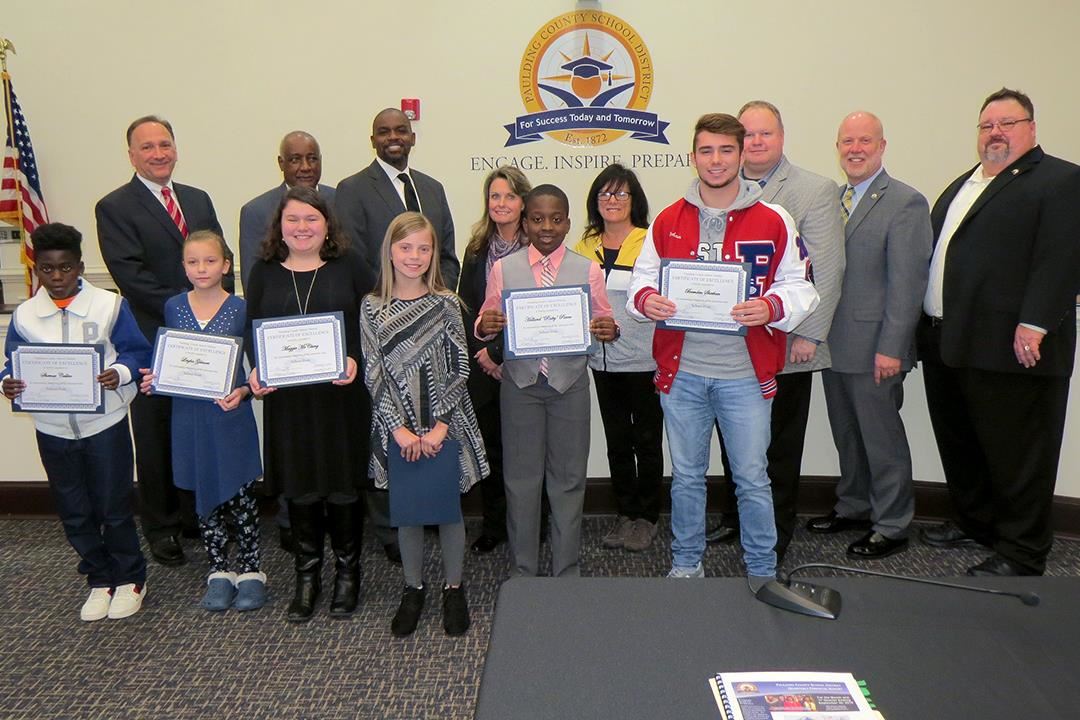 This month's Character Education honorees pose with the Board of Education.
Fine Arts in Action
This month, Fine Arts in Action recognized the One Act All-Star Cast Members from the 2018 Fall GHSA Regional One-Act Competitions which took place on Saturday, Oct. 27, 2018.
The objective of the GHSA One-Act Competition is the promotion of education in Georgia from a mental, physical, and moral viewpoint, to standardize and encourage participation and to promote sportsmanship and an appreciation for and study of music, speech, and other fine arts.
Congratulations to the following students for being chosen as their production's All-Star Cast Member for their unique abilities in portrayal of their character and for their on-stage leadership during the 2018 One-Act Competition:
From North Paulding High School, for the play Ten Ways to Survive the Zombie Apocalypse by Don Zolidis:
Senior, Kendyl Dunn
Senior, Madison Ricci
The Drama Director for North Paulding is Ms. Brittany Patterson.
From South Paulding High School, for the play Just Like I Wanted by Becca Schlossberg:
The Drama Director for South Paulding is Mr. Joshua Baines.
From East Paulding High School, for the play Lockdown by Douglas Craven:
Junior, Cori Nicholas
Junior, Josh Barnett
The Drama Director for East Paulding is Ms. Britt Hensley.
From Paulding County High School, for the play, sub/Text by Tyler Dwiggins:
Senior, Jalen Reed
Sophomore, Devarian Foresyth
The Drama Director for Paulding County High School is Mr. Matt Pavlak
From Hiram High School, for the play The Triangle Factory Fire Project by Christopher Piehler:
Junior, Luke Moser
Junior, Kaleb Quinn
The Drama Director for Hiram High School is Dr. Jen Grazer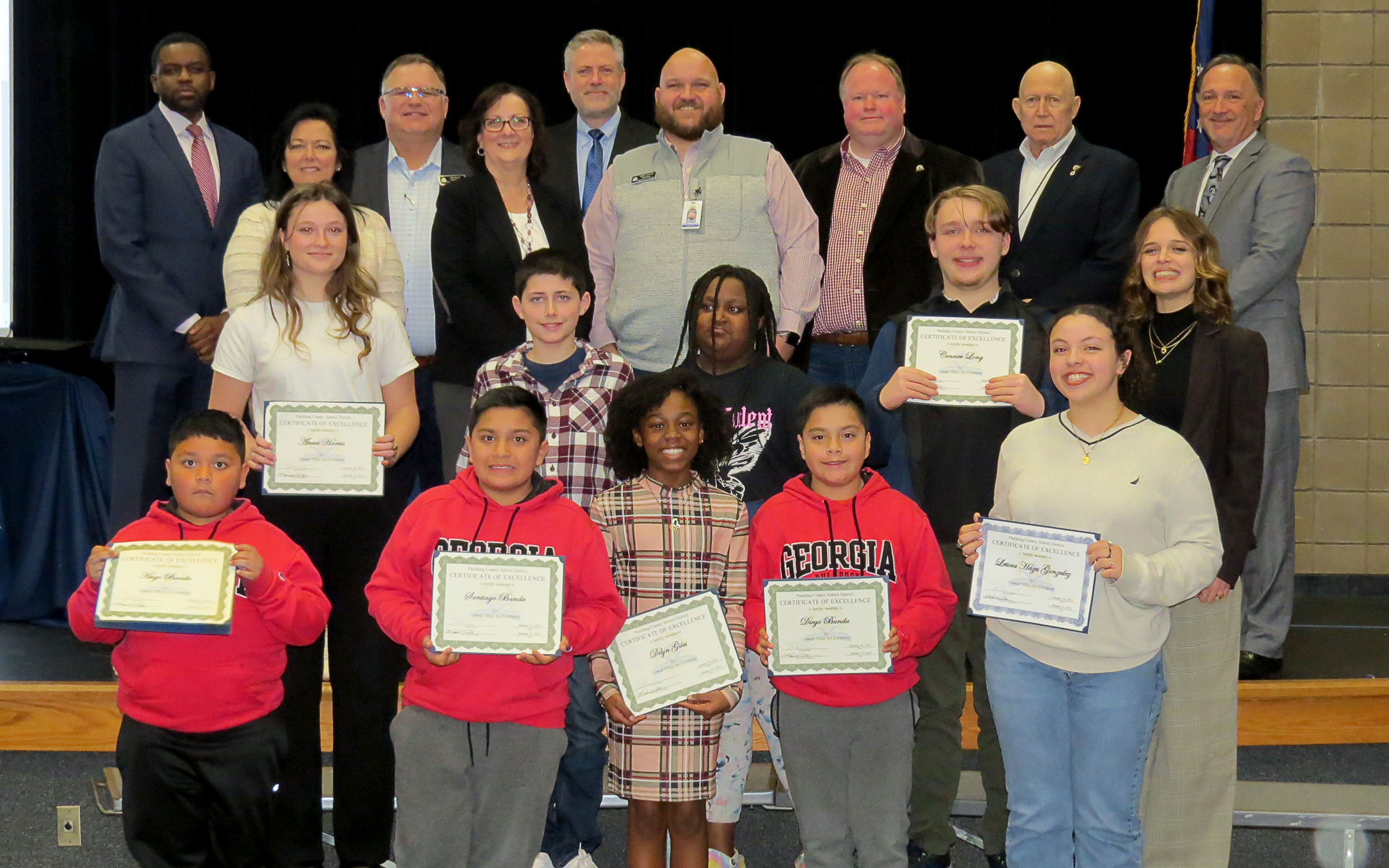 Pictured left to right are: Board Attorney Tom Cable; Board Member Sammy McClure; Luke Moser, Hiram HS; Board Chair Nick Chester; Kaleb Quinn, Hiram HS; Board Member Kim Cobb; Kendyl Dunn, North Paulding HS; Board Member Teresa Lyons; Madison Ricci, North Paulding HS; Board Member Jeff Fuller; Superintendent Dr. Brian Otott.