Return to Headlines
School Board Recognitions Dec. 10, 2019
Presentation of Colors

The Paulding County High School JROTC presented the colors at the Dec. 10, 2019 Board of Education meeting.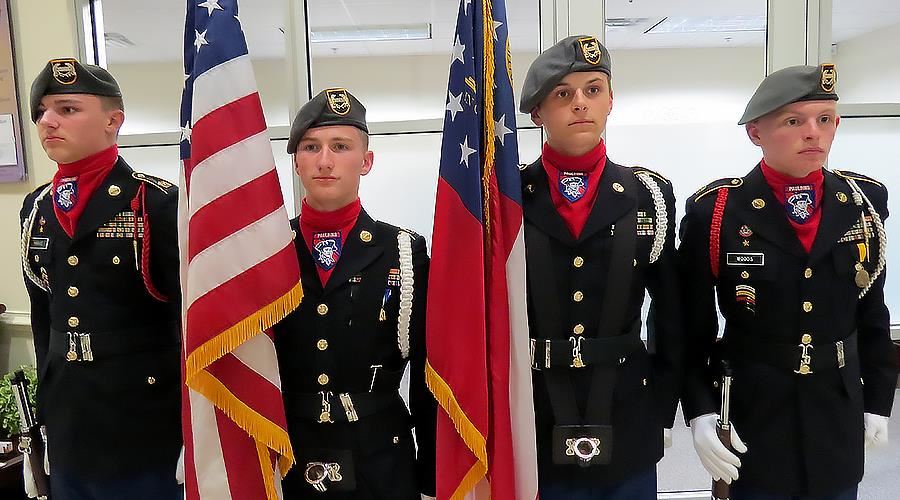 Paulding County High School JROTC team that presented the colors at the Dec. 10, 2019 Board of Education meeting, from left, are: Sgt. Maj. Nick Harvey, Cadet Sgt. 1st Class Luke Leathers, Cadet Sgt. 1st Class Jacob Magnusson, and Cadet Sgt. 1st Class Christian Woods.

---
Character In Action

Each month, students are chosen by the teachers and/or administration of their schools as excellent representatives of positive character at school. This month, we will recognize students for the character trait of Generosity, which was our character word for the month of November. We are recognizing students from Allgood Elementary, Dallas Elementary, Poole Elementary, Ragsdale Elementary, Jones Middle School, and Paulding County High School.
Phoebe White - Allgood Elementary School
Phoebe, a 5th grader, exhibits the character trait of generosity in her classroom. She is kind and helpful to her classmates. Phoebe is always willing to give of her time, resources, and support in the classroom. She is by nature a calming influence who respects everyone and genuinely wishes well for everyone.
Bailey Scott - Dallas Elementary School
Bailey, a 5th grader, is very generous with her time in the classroom. Whether she is helping another student understand an assignment or just loaning out a pencil, Bailey is generous every day! She lets others in front of her in line and never complains when others are taking advantage of a situation. We are very fortunate to have her on the school's morning announcement team. She gives selflessly of her talents and her time, and without expectation of return. Thank you for being so generous Bailey!
Declan Clark- Poole Elementary
Declan is a 4th grader and exemplifies generosity every day to both teachers and other students. He is always willing to share any activity he is doing with other students. He invites other students to join him, especially at recess and while playing with Legos. Declan shares with his teachers – past and present – by bringing them tomatoes and other vegetables from his family's garden. He is always so excited to show us his latest "hybrid" tomatoes! He loves to educate all of us on the healthy things that grow in his garden. Generous is definitely a word that I would use to describe Declan! Susan Oliver, teacher, Poole Elementary
Piper Buehrer - Ragsdale Elementary School
Piper is a 2nd grader who gives more than is expected for a second grader. In class, she shares her supplies as well as her skills (academic and artistic talents). Piper is always willing to help her fellow classmates and wants to see them succeed. She is a role model for my class.
Jocelyn Antoine - Jones Middle School
JoJo is a 8th grader, and he exhibits this character trait as he often puts others before himself. He is a kind and generous student. He is generous with his time by holding the door open for others. He is willing to share his belongings like pencils when he sees a peer in need.
Ahbryanna Jean - Paulding County High School
Ahbryanna is a 12th grader and is always helping others and her teacher in class. She picks up trash in the room, helps take down and set up new door displays each month, puts all the laptop cart computers in order each time and a number of other tasks she's not asked to do and she does all this with a positive attitude. She is a great student and a pleasure to have in class.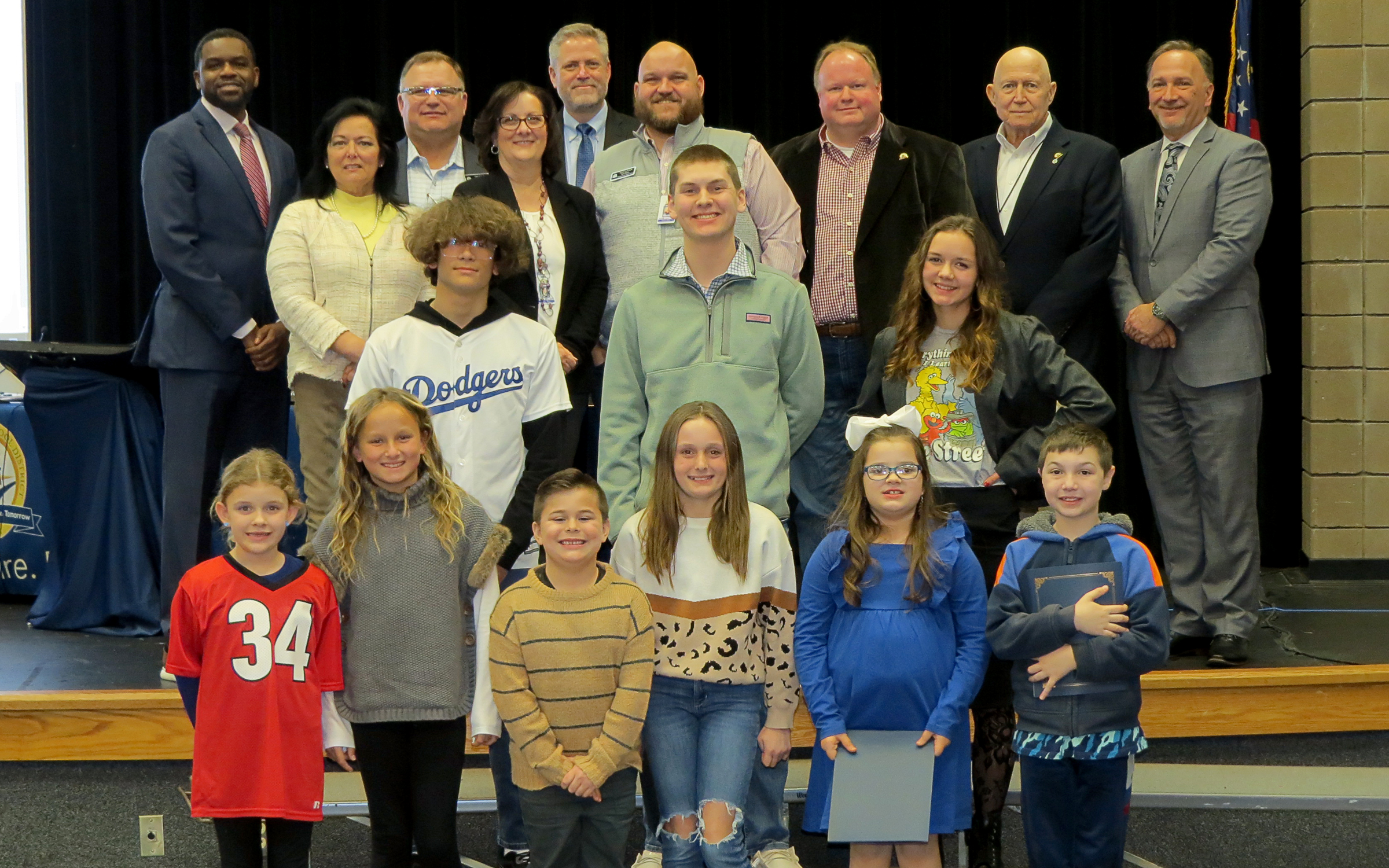 Piper Buehrer, Character in Action honoree and a 2nd grader at Ragsdale Elementary School, poses with members of the Board of Education at the December 10, 2019 meeting.
---
Central Office Artists

We are excited to recognize our Central Office Artists with our first round of elementary artists. These artists will have their work displayed in our Central Office Gallery, located in the entryway through the month of February. Tonight, we will recognize artists from the following schools: Abney, Allgood, Baggett, Burnt Hickory, Dallas, Dugan, Hiram, Hutchens, and McGarity
Te'Anna Hogan - Abney Elementary
Te'Anna is a 3rd grader and is presenting a mixed media piece.
Addison Moon - Abney Elementary
Addison is 5th Grader and is presenting a mixed media piece
Addison Weeks - Allgood Elementary
Addison is a 5th Grader and is presenting a mixed media piece.
Jaxon Jones - Burnt Hickory Elementary
Jaxon is a 5th Grader and is presenting a work in Chalk Pastel
Addison Letts - Baggett Elementary
Addison is in the 5th Grade and is presenting a work in Acrylic
R'Moni Benson - Dallas Elementary
R'Moni is in the 3rd Grade and is presenting a mixed media piece
Brylee Vila - Dugan Elementary
Brylee is presenting a work in ink
Megan Demere - Hiram Elementary
Megan is in the 5th Grade and is presenting a work in graphite.
Chloe Hilliard - Hutchens Elementary
Chloe is in the 2nd Grade and is presenting a mixed media collage
Alyssa Whitehead - McGarity Elementary
Alyssa is in the 5th Grade and is presenting a work in Chalk and Oil Pastel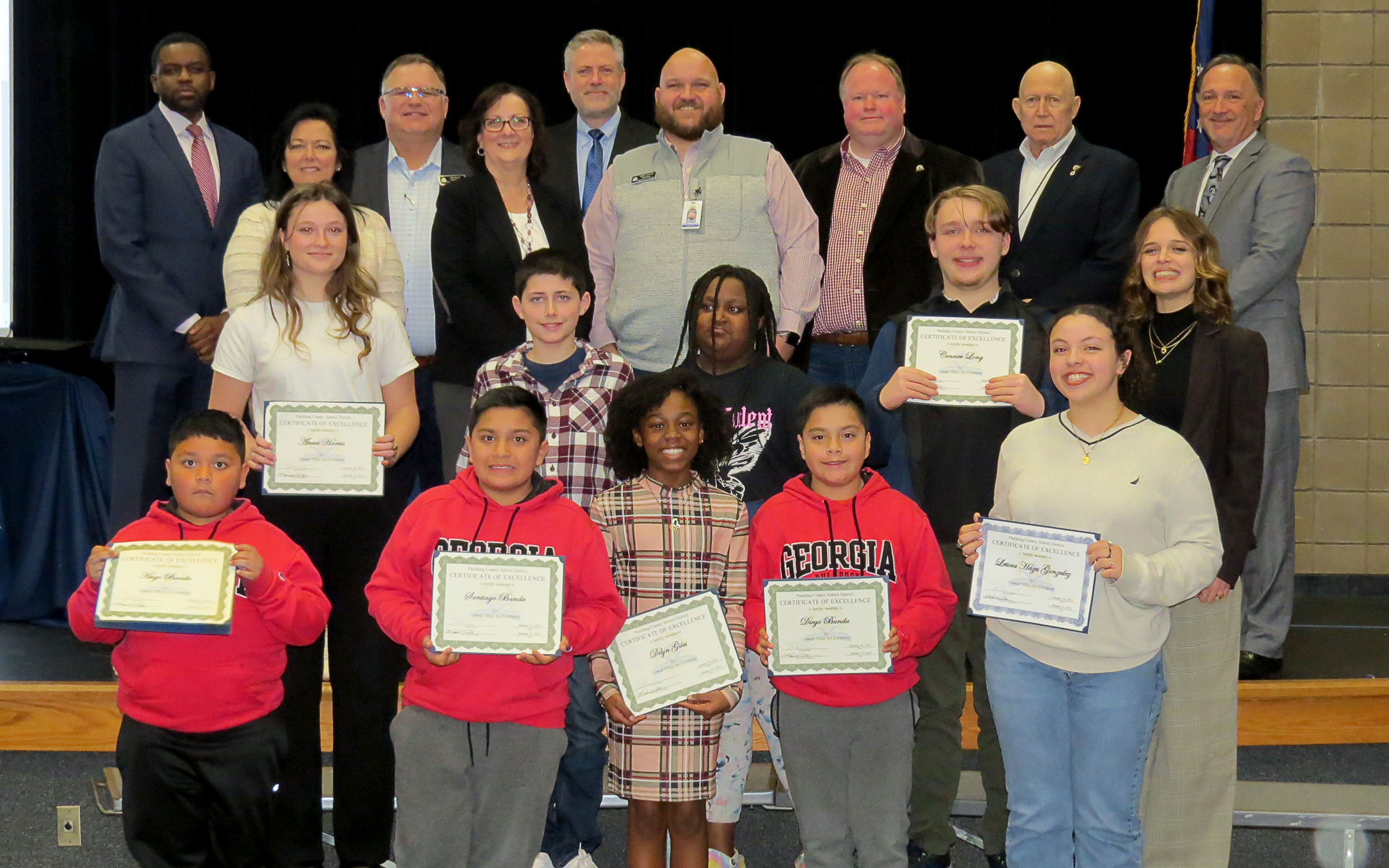 Elementary artists who will have their works displayed at the central office gallery, pose with the Board of Education at the June 10, 2019 meeting.
---
Players of the Year - Fall Sports
Softball

Kyleigh Haney - Hiram High School
KJ Haney is not only a hard worker, but a great leader. She has broken several school and district records while at Hiram High. Her batting average this year was .643, she had 17 RBIs, 6 home runs, and a .991 fielding percentage. Coach Frankland said, "I do believe she would have broken more records if not for her being intentionally walked by our opponents on numerous occasions throughout her high school career". KJ will continue her softball career at the University of Alabama, where we know she will continue to excel and be a great representative of Hiram High and the Paulding County school District. Her head coach is Ms. Brooke Frankland
Boys Cross Country
Eli Corn - East Paulding High School
Eli has just finished his second year of cross country. As a freshman this year, he had some great accomplishments. He was the boys' overall winner at our District Cross Country meet and he won the Rockmart Invitational. At the Region Meet, Eli finished 5th overall, qualifying for the state meet as an individual and leading the East Paulding boys to the state meet as a team. He finished 37th at the state meet. Eli's running times this year make him the fastest freshmen in East Paulding school history, and the 7th fastest runner overall in school history. He also was a 3rd team selection for the All South Freshmen Team at the nationwide, Footlocker Run, which ranks him as a top 36 freshmen in the South region of the United States. He finished this year with a personal best time of 17:06. His head coach is Taylor Ford.
Girls Cross Country
Aubrey Bachtel - North Paulding High School
Aubrey is an amazing young lady and an awesome athlete. She may be quiet and reserved, but when given a pair of running shoes and a trail she will out-work you and give her all holding nothing back. Aubrey is a wonderful person inside and out and goes above and beyond giving everything to her team and individual success. She is humble, loving, caring, focused, and determined to conquer any task given to her and willing to help her fellow team-mates in any way she can. Aubrey is dedicated to her craft and puts in the time and the effort, which has really paid off for her this season. She was 80th in the State meet last year with a time of 21:53 and this year she finished 40th with a time of 20:53. She is not finished yet! She still has one more year and her eyes are set on the goal to be in the top 8 for region for the next Cross-Country season. Aubrey has shown perseverance and solid leadership for the North Paulding Wolfpacks and we are honored that she is the Leader of the Pack for Paulding County. Her head coach is Melissa McCorvey.
Volleyball
Jasmine Singleton - Hiram High School
Jasmine is a 2019 All Region, Honorable Mention selection. She is a player that always strives to be a better player than she was the day before. Whenever her team is down and appears to be struggling, she has the ability to get them refocused with her positive attitude and encouraging leadership style. She is extremely "coachable" and is our "go to" hitter on the court. Jasmine was the top scorer on our team this year and was second in number of digs. Her coach says, "She is a coach's dream and I was honored to have her on the Hiram Volleyball team". Her head coach is Sydney Cooley.
Football
Parker Self, South Paulding High. Parker is South Paulding High's all-time leader in receptions, yards, and touchdowns. This year, as a senior, he had 93 receptions for 1,508 yards. He scored 19 TD's and totaled 73 yards in kickoff returns. He totaled 64 yards in punt returns and had one interception for the year. He is currently ranked #1 in the state in the 6A classification for receptions and yards and ranked #2 in all classifications. Parker is not only a leader on the field, but he is a leader in the classroom as well, with a 3.63 GPA. Parker is a 3- year starter in football and has played an integral part in our turn- around of the South Paulding High football program. He helped to lead us to the 2nd round of the state playoffs this year. His head coach is Jason Thompson.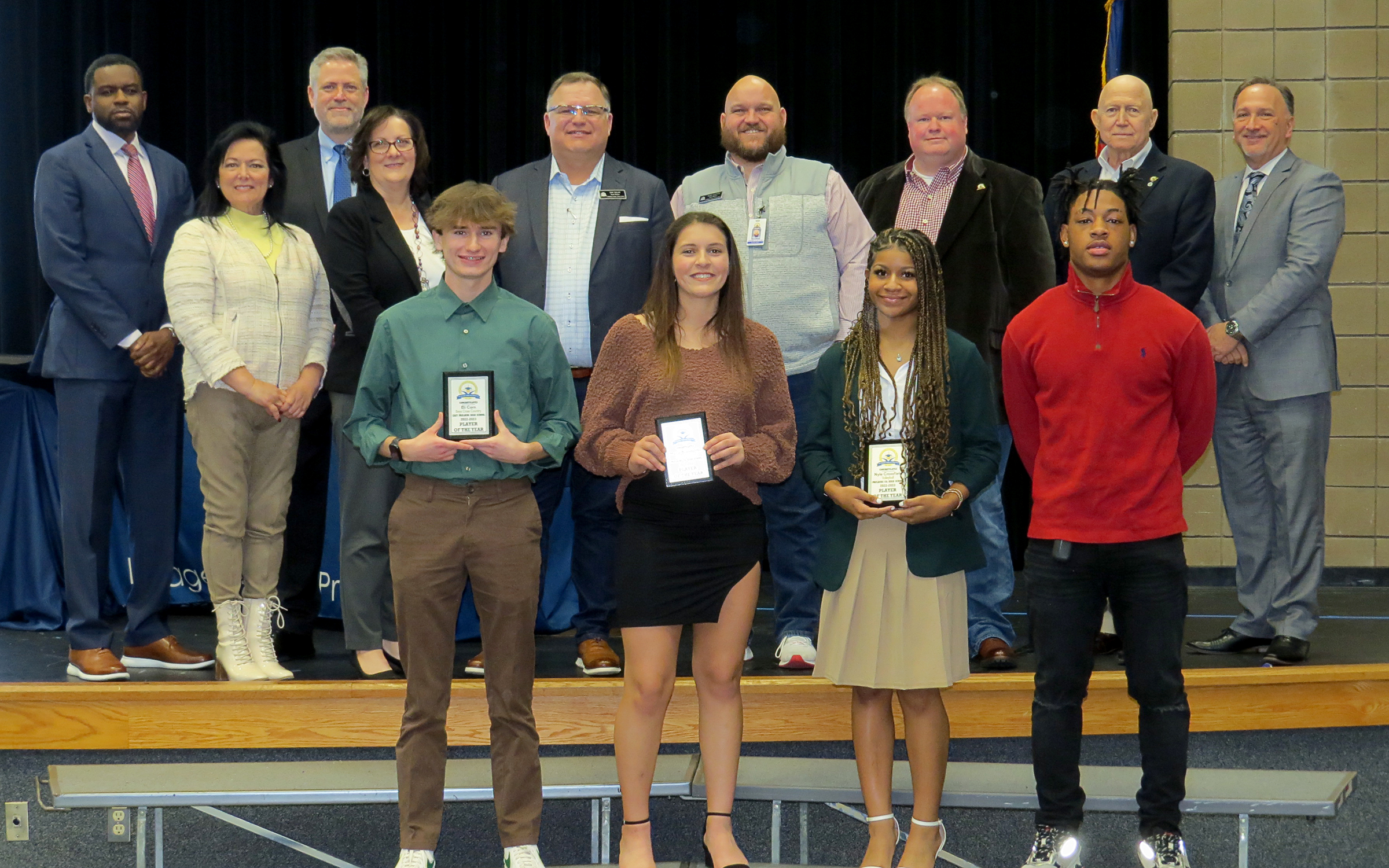 Fall Players of the year pose with the Board of Education. They are, from left (front row): Aubrey Bachtel of North Paulding HS, Cross Country; Jasmine Singleton of Hiram HS, Volleyball; KJ Haney, Hiram HS, Softball; Eli Corn, East Paulding HS, Cross Country; and Parker Self, South Paulding HS, Football.