Return to Headlines
School Board Recognitions, June 11, 2019
Paulding Retired Educators Association

The Paulding Retired Educators Association led off the June 11, 2019 Board of Education meeting by presenting $500 scholarships to three outstanding PCSD teachers. Susan Lester, Sandy Parson and Barbara Cohran of the PREA presented scholarships to:
Marcus LeGear, Music teacher at New Georgia Elementary School
Zach Coker, Geography teacher at East Paulding High School
Ashley Poole, Choral teacher at Hiram High School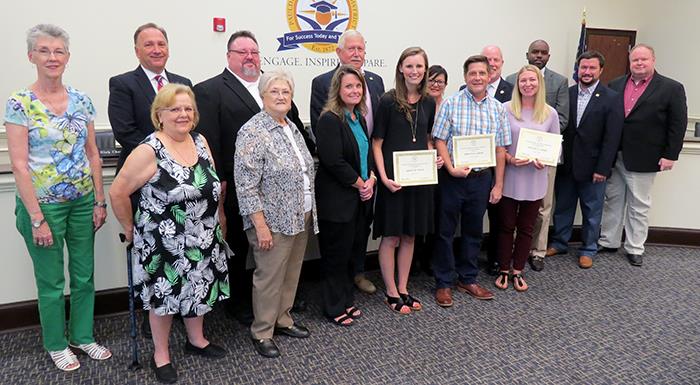 ---
Spring 2019 Players of the Year

Soccer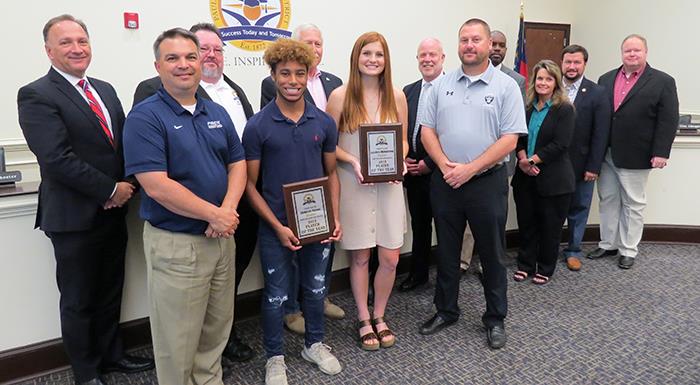 Girls and Boys Soccer Players of the Year, Lauren Bergevine of East Paulding High School and Derrick Novak of North Paulding High School (with plaques) pose with the Board of Education and NPHS Principal Gabe Carmona (front left) and EPHS Girls Soccer Coach Doug Johnson (front right).

Girls
Lauren Bergevine
East Paulding High School
Lauren primarily played a defensive position or midfield for East this season. She scored 23 goals this season and 65 total in her 4 years playing through the middle 3rd of the field. She is a Senior Captain (Captain all 4 years of High School) and 3 time all region winner (Freshman, Junior and Senior). Lauren is a recipient of the Vince Dooley Athletes for a Better World award for her leadership both on and off the athletic field. She is the 2019 Region 7-5A Player of the Year as voted on by Region Coaches. She will be attending Truett McConnell in the fall on a Soccer Scholarship. Her leadership was instrumental in our 6 region wins and returning our team to the GHSA playoffs for the first time in five years.
Lauren is a positive leader, displaying her leadership qualities not only on the field but also off the field and in the classroom. She is a member of Chick-fil-a Leadership, FCA and numerous academic clubs. Taking primarily honors and AP courses and maintaining a 4.4 GPA, and is currently ranked 4th in her class. She is a well-rounded scholar athlete, balancing her obligations well. She leads our team through drills, always taking time to work with younger players to make sure they are comfortable playing with her. She is not out for glory and in fact lays back and allows others to shine. She has an intensity that is unmatched and drives our team whether winning or losing in a positive way…
Boys

Derrick Novak
North Paulding High School
Derrick boasts 10 goals and 9 assists and stands out as a player with a great amount of skill. He is much more than his stats and atheletic skill because Derrick is coachable. He is a great teammate and always seeks to help others improve. Derrick is very passionate about the game and works hard to continue to grow as a player. He seeks his personal improvement every day and encourages that of his teammates as well. He is respectful and looked up to by his team. We are so happy to honor and recognize Derrick Novak. Congratulations, Derrick.
---
Track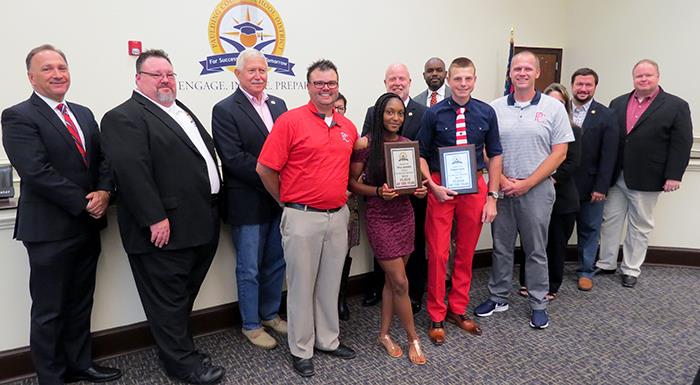 Girls and Boys Track Players of the Year, Kyla Johnson of Paulding County High School and Freddy Huff of Paulding County High School (with plaques) pose with the Board of Education and PCHS Track Coaches Brandon Bowman and Frank Christ.
Girls
Kyla Johnson
Paulding County High School.
Kyla qualified for state sectionals in both the 100-meter dash with a time of 12.21 seconds and in the 200-meter dash running 25.25 seconds. From that point, Kyla qualified for the State Track meet in the 200-meter dash placing 10th
Kyla is an inspiring athlete who works hard at her craft and always seeks to develop her fellow teammates. Even though, she is just a sophomore she has shown herself to be a true leader and is identified as the caption by her coaches and peers. Her focus and determination to get better each in everyday in all aspects of life is truly an inspiration to everyone she meets. I cannot wait to see what the future holds.
Boys

Freddy Huff
Paulding County High School.
Freddy is 1st Paulding County Athlete to both qualify and place at the state track meet in Pole Vault placing 4th overall and setting a new Paulding County High record and the County record clearing the bar at a height of 14 feet. Freddy's work ethic is second to none. He not only practices here he also attends Georgia Pole vault for additional training. Even with his busy pole vaulting schedule Freddy still finds time to become an eagle scout, participate on our schools fishing team and the ROTC Raiders. His commanding presence allows Freddy to naturally lead his fellow teammates in becoming the best vaulters they can be. The sky is the limit for Freddy and I am sure there will be even greater things to come.
---
Tennis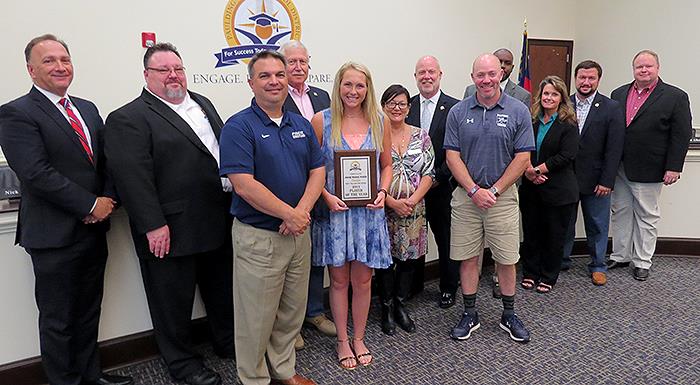 Girls Tennis Player of the Year Anne Marie Hiser of North Paulding High School (with plaque) poses with the Board of Education and NPHS Principal Gabe Carmona (front left) and Tennis Coach Rick Holsomback (front right).
Girls
Anne Marie Hiser
North Paulding High School
Anne Marie is 10-0, undefeated in Region, playing 3 years in a row and outscoring her opponents 120 games with only losing 11 games and never went to a third set.
Anne Marie is consistently the best player. She is undefeated in Region play for the last 3 years and undefeated the last 2 years in a row. She is committed to play at the University of Alabama in the Fall of 2020. She is a vocal leader and is respected by all her teammates. She is the best athlete I have ever coached. She is mentally and physically unmatched on the tennis court.
Boys

Justin Waldman
North Paulding High School
Justin has been a cornerstone of Wolfpack tennis since his freshmen year and has been the Varsity Captain for all 4 years. Year after year he has provided leadership to players young and old and personally has only lost 3 total sets in all of that time. Justin shows the true meaning of sportmanship and always brings the positive out in less than ideal situations. Justin will be playing Tennis at the Airforce Academy on a scholarship. Justin is also in the top 10 of the Class of 2019.
---
Golf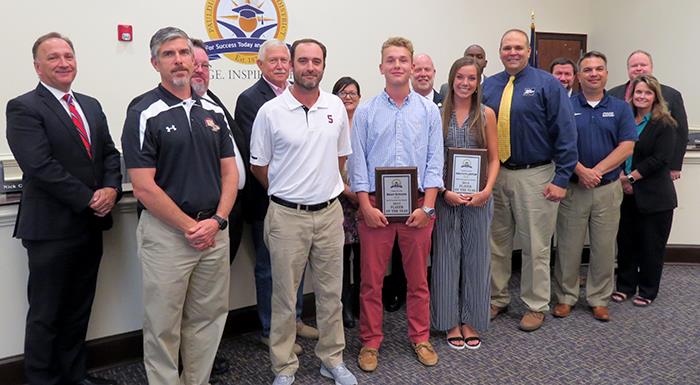 Girls and Boys Golf Players of the Year, Anna Kate Loeffler of North Paulding High School and Brady Edwards of South Paulding High School (with plaques) pose with the Board of Education and SPHS Principal Keith Rowland (front left), SPHS Golf Trey Donaldson (white shirt), NPHS Golf Coach Jeff Brooks (yellow tie) and NPHS Principal Gabe Carmona (front right).

Girls
Anna Kate Loeffler
North Paulding High School
Anna Kate had a fantastic year. Her strong play against other schools allowed North to win 82% of matches against other schools. She averaged 83 over 18 holes this year. She won the low medalist at the 1st Annual County Tournament with an 84. The next best girl in the county shot a 104. Her low score of the year was an 80 in the 7A Area 2 tournament. This allowed her to be the low medalist in the area as well. Her low score secured 2nd place as a team in the area and qualified North for state with a score of 284.
Anna Kate was nominated because of her leadership this year. She led in scoring average and also in hours on the golf course. Whenever we were not practicing, she was still out there getting better on her own. Her desire to be the best pushed our team to improve our skill and score on the course. Even though she is a 10th grader, she is already one of the best golfers in school history. She did all this while being one of the top academic students in the class of 2022. Her leadership led us back to the state tournament for the second time in two years.
Boys

Brady Edwards
South Paulding High School
Brady has a 9-hole average of 38 and his 18-hole average was 79.
Brady is a leader on and off the course. Brady held the number 1 spot throughout this entire year
He shot the lowest round and won the 1st annual county tournament. Brady has a great work ethic and always seeks to make everyone around him better.
---
Lacrosse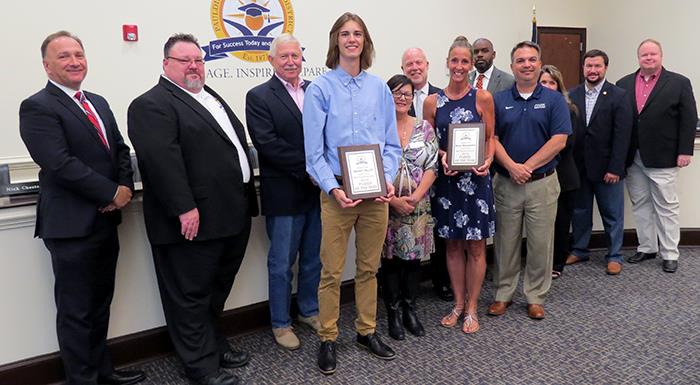 Girls and Boys Lacrosse Players of the Year, Balay Woodworth of North Paulding High School (not pictured, mom holding plaque) and Bennett Miller of North Paulding High School (with plaque), pose with the Board of Education and NPHS Principal Gabe Carmona (front right).
Girls
Balay Woodworth
North Paulding High School
Stats include 160 shots on goal, 105 goals, 66% shot percentage, 85 assists, 263 draws attempted, 169 draws won, 64% draws won percentage, and 68 ground balls
Balay is a four-year starter on lacrosse and has played an instrumental role in leading her team to North Paulding's first ever lacrosse Final 4 appearance this spring. In addition, she has won the Offensive Team MVP her first three years and will receive this award for the 2019 season based on the stats mentioned. She has been a team captain the last two years and is without question the team leader, serving in this capacity since her Junior year with tremendous poise. She has been voted a first-team all-area player twice, including this year. She was chosen for the 2018 All-State game. She attended the DECA Nationals this spring and has participated in BETA, SGA, IMPACT Team and Young Life. She's worked the last two years in Paulding County School District's After School / Learning Bridge Program and she is graduating with Honors and a 3.7-3.8 GPA. Balay plans to attend the University of North Georgia in Athens.
Boys

Bennett Miller
North Paulding High School
As Goalie, Bennett's stats include – 16 games played, 600 minutes. 1 assist, 43 ground balls, 2 interceptions, 146 saves, 107 goals allowed and his save percentage is .58%. He boasts 12 wins and 4 losses
Bennett was the backbone for the team this year. He led the defense, was a strong communicator, and displayed an "All In" positive attitude throughout the season. He set the single season record for North Paulding goaltenders with 146 saves this year. He was instrumental in the team's 16-4 season.
---
Baseball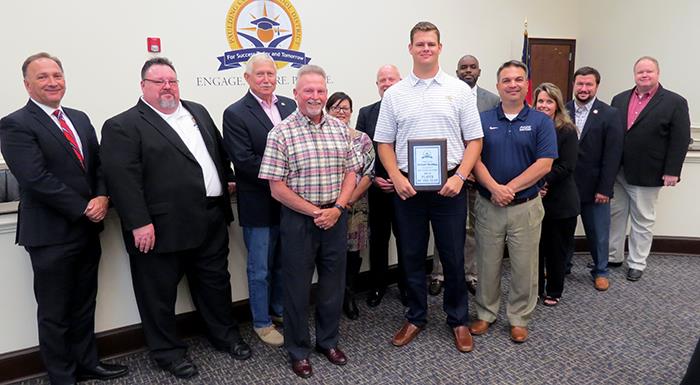 Baseball Player of the Year Zachary Maxwell of North Paulding High School (with plaque) poses with the Board of Education and NPHS Baseball Coach Dennis Jordan (front left) and Principal Gabe Carmona (front right).
Zachary Maxwell
North Paulding High School
Zack is a 6'5 240lb RH Pitcher who has contributed greatly to the success of North Paulding Baseball the last three years helping to lead them to 2 Elite eight appearances and One Sweet 16. He has accepted a scholarship to Georgia Tech and was named a Captain for our team this year. He is a quality young man who represents himself and his family in a first-class manner and he also represents our program with the utmost character.
Zack pitched in 13 games, where he threw for 56.1 innings. He had 9 wins and 0 losses. He only gave up a total of 16 hits and 14 runs. He had 103 strikeouts and an ERA of 1.112.
Zack was recently selected by the New York Yankees in the 30th round of the major league baseball draft.