Return to Headlines
Meet Another Amazing PCSD Student - Nicholas Revelos
North Paulding High School Student Named 2019 Georgia Scholar
Congratulations to North Paulding High School's Nicholas Revelos who was recently named a Georgia Scholar by the Georgia Department of Education! Through the Georgia Scholar program, the Ga. DOE identifies and honors high school seniors who have "achieved excellence in school and community life. Students eligible for Georgia Scholar recognition are high school seniors who exhibit excellence in all phases of school life, in community activities, and in the home."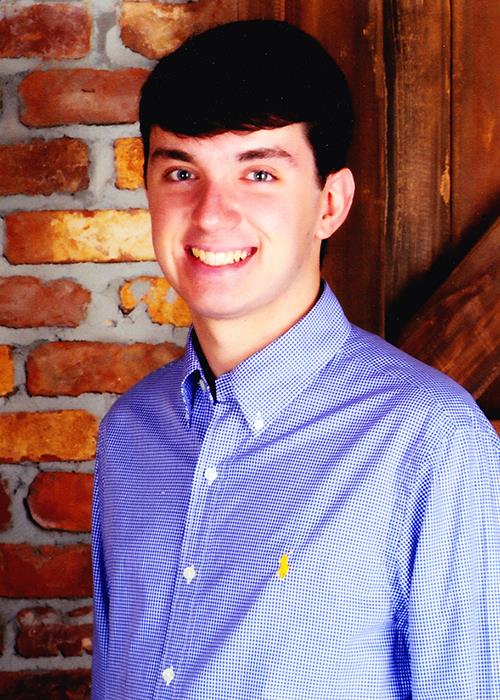 According to the Ga. DOE, "Georgia Scholars are students who have carried exemplary course loads during their four years of high school; who performed excellently in all courses; who successfully participated in interscholastic events at their schools and in their communities; and who have assumed active roles in extracurricular activities sponsored by their schools. Each Georgia Scholar receives a seal for his or her diploma."
With his outstanding academic work, combined with a remarkable level of extracurricular participation, Nicholas meets all the criteria of the Georgia Scholar honor, and was the only Paulding County senior to receive the honor. As a Paulding County native who attended Shelton Elementary School and McClure Middle School, he is now an 18-year-old North Paulding HS senior committed to Georgia Tech where he plans to study industrial and systems engineering. He finished in the top five of his class all four years at NPHS. Other academic recognition includes:
Georgia Governor's Honors Program Semi-Finalist – Math (10 & 11)
AP Scholar with Distinction Award (10, 11)
Business and Technology Student of the Year (10, 11)
Georgia Certificate of Merit (11)
National Merit Scholarship Letter of Commendation (11)
US Presidential Scholars Program District Representative (12)
GA Future Business Leaders of America Computer Applications Award: 1st Place Region; 4th Place State (11)
MathWorks Math Modeling (M3) Challenge – advanced to 2nd round; top 20% of teams internationally (11)
Marine Advanced Technology Education Underwater Robotics Competition: 1st Place Region; 7th Place Int'l (11)
Varsity Letter and Pin: Robotics (10, 11)
Varsity Letter and Pin: Football (10, 11, 12)
But the Georgia Scholar program considers more than just academic excellence - it considers the whole student, and that includes involvement outside the classroom as well. Nicholas's extracurricular activities are almost mind-boggling:
Student Government Association: Vice President (9, 11, 12), Member (10)
Mu Alpha Theta math club: President (12), Secretary (10, 11)
National Honor Society: Vice President (12)
Academic Quiz Team: Co-Captain (9, 10, 11, 12) (this year invited to WSB-TV's High Q quiz show for first time!)
Varsity Football Team: Lead Videographer (10, 11, 12) (records practices and home/away games, edits and uploads game and player highlights, and manages A/V equipment)
Underwater Robotics Team: CEO (9), Lead Engineer (10, 11)
National Beta Club: Member (10, 11, 12)
Spanish National Honor Society: Member (11, 12)
North Paulding High School Chorus: Piano Accompanist (9, 10, 11, 12)
One would think that with a schedule that full Nicholas would scarcely have time to eat or sleep, but when he does have a spare moment you can find him on the golf course practicing his golf game.
"Nicholas is just a great kid, so willing to help others and always puts others first," said NPHS Principal Gabe Carmona. "He's a positive, upbeat student, and he's involved in so many activities. He's everywhere! When I met with Student Government at the beginning of year, he spoke out and asked how SGA could work on planning activities for the students. His role on Student Government means he was elected by his classmates, and I think that says a lot."
Nicholas believes that being a well-rounded student is the best approach.
"I'm glad that I've been able to live a balanced lifestyle," he said. "I've been involved in so many clubs, but I've also been able to stay focused on grades. It's been a good balance."
He also said North Paulding High School has been the perfect school that has provided outlets for all of his interests.
"There are so many avenues and clubs to be involved in. It's really great to get to know all of the people in these activities and share our passions. The best part is trying to be involved and getting to know as many people as possible."
He certainly has succeeded in that regard. Congratulations again to Nicholas Revelos, 2019 Georgia Scholar!