Return to Headlines
PCSD Schools Honor Black History Month
"Life's most persistent and urgent question is: What are you doing for others?"
Dr. Martin Luther King, Jr.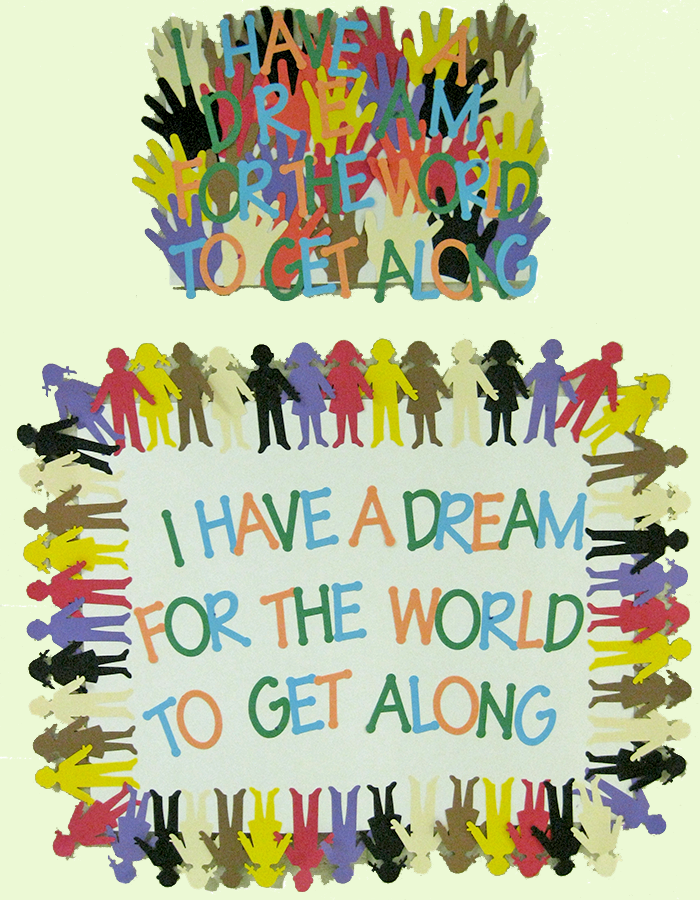 Student Poster at Roberts Elementary School
This February, schools in Paulding County have been busy honoring African American History Month. Here are just a few examples of what our schools are doing to educate our students about African American history and the key figures who define that history.
At Austin Middle School
Every morning a student reads about a significant figure in African American history. Additionally, each week new history lessons are incorporated into different content areas.
At Baggett Elementary
The school will hold its annual Black History Performance on March 7th at 6 PM. And each morning during announcements one historical black figure is highlighted along with a photo and facts.
Burnt Hickory Elementary
The school conducts a "Heroes Who Never Gave Up" activity during February/March that features a bulletin board with a diverse group of well-known people from recent history who overcame adversity and became famous for different reasons. On the board, each face is concealed at first and a clue is listed and included on the morning announcements. Students can then write their guesses and submit them. A winning student name is drawn each day.
At Dugan Elementary
Teachers are reading books about African Americans who have made a significant impact on our country.
At East Paulding High School
The school is using its media center to focus on Black History Month by promoting literature by African American authors.
At East Paulding Middle School
6th Grade ELA classes are teaching literature created by some of our great authors such as Maya Angelou and Langston Hughes, while the 8th Grade Georgia Studies classes are currently focusing on the Civil Rights Movement.
At Herschel Jones Middle
Morning announcements highlight the accomplishments of historic African Americans.
At North Paulding High School
Many topics relevant to Black history have been woven into the curriculum, including:
World History: Students created an "Africans During the Renaissance" Brochure using primary and secondary sources.
U.S History/Honors US History: Students are studying the contributions of historical figures from the early abolition movement in America including: Frederick Douglass, Harriett Tubman, Sojourner Truth and David Walker.
Literacy: Students are reading and analyzing problems from Antebellum America, including the question of how can slavery exist in a free society?
AP Psychology: Students are studying past and current cultural biases as they pertain to race.
At Northside Elementary
Diversity Day will be Wednesday, February 27th for students to share family cultures, foods and traditions. Also, each grade level is reading, completing classroom activities and making displays to honor Black History Month and diversity.
At Poole Elementary
The school sends a letter to parents letting them know about all of the Black History Month activities, including:
Shared and interactive reading lessons in all grade levels where students discuss black history and lessons/themes centered on tolerance and understanding.
Black History Month "Did you know…" facts shared with all students during the morning news.
STEM Day lessons and experiments about black innovators and inventors.
Civil Rights Hero studies involving reading and writing activities about MLK Jr., Rosa Parks, Jackie Robinson, George Washington Carver, Ruby Bridges, and many others.
Biographies and documentaries teaching students about Frederick Douglass, Sojourner Truth, and Harriet Tubman as abolitionists,
Counseling lessons for all students focused on appreciating our racial differences and understanding our diverse cultural histories, values, and beliefs.
At Ragsdale Elementary
Teachers planned their texts and literature units to be based on African American leaders.
At Roberts Elementary
The school began its 10th Annual Black History Month Celebration in February. Activities have included:
Reciting the No Place for Hate Pledge on Rocket TV;
Students signing a Pledge Sheet promising to do their best to treat others with kindness and respect;
A history Question Of The Day will be announced every Monday, Wednesday, and Friday morning on the Rockets Action News, with prizes awarded;
A Poster Contest based on the "I Have A Dream" theme with one winning student from each grade level;
Parents (and some staff) reading biographical information about famous black Americans on the Morning News;
Guidance Lessons on Tolerance/Acceptance of Differences;
And teachers incorporating Black History lessons into their curriculum.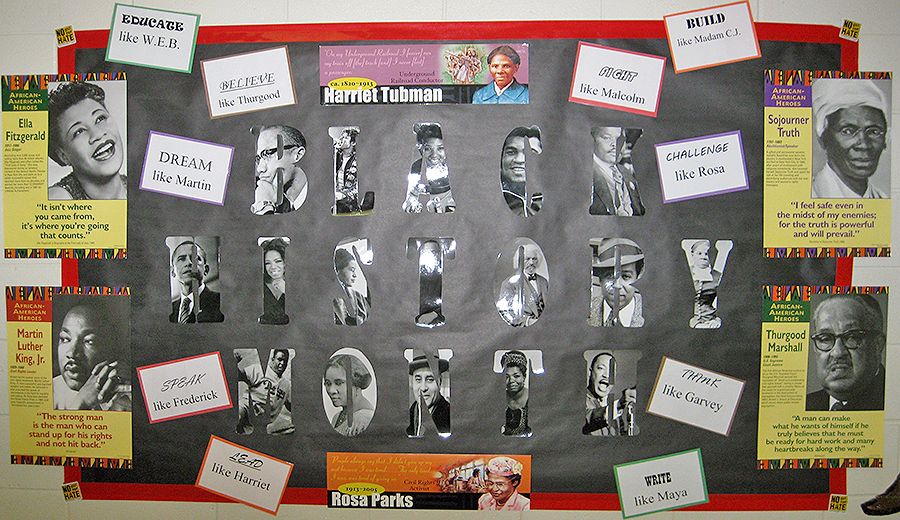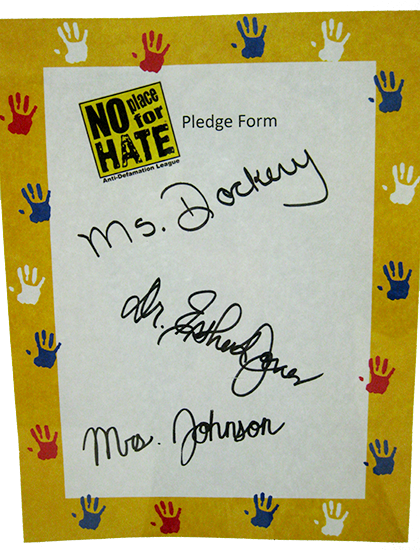 Student Bulletin Board and sample "No Place For Hate" Pledge Form at Roberts Elementary School
At Russom Elementary School
Hosted a food drive in honor of Dr. Martin Luther King Jr.;
Video clips for the classroom that focus on MLK and the Day of Service, as well as one with Ruby Bridges;
Students highlighting a notable African American man and woman on the news each morning;
Books highlighting Black History displayed throughout the library;
PE Class spotlighting African American athletes such as Arthur Ashe, Muhammad Ali, Michael Jordan, Jackie Robinson, Althea Gibson, Hank Aaron, Wilma Rudolph and Jackie Joyner-Kersee;
And at each grade level, detailed lesson plans including readings and videos that highlight historic figures.
At Shelton Elementary
The school is conducting a Black History Month quiz called "Who Am I?" on the televised morning announcements through February.
At South Paulding High School
Students are making daily announcements and posing black history trivia questions throughout the month with prizes for those submitting correct answers. The school also holds an essay, poetry, and art contest that runs all month with the theme Renowned African-Americans Past and Present.
At Union Elementary
The school is conducting a Black History Month quiz called "Who Am I?" on the televised morning announcements through February.