Return to Headlines
School Board Recognitions Feb. 12, 2019
Presentation of Colors
The Hiram High School JROTC led off the Feb. 12, 2019 Board of Education meeting with the presentation of colors.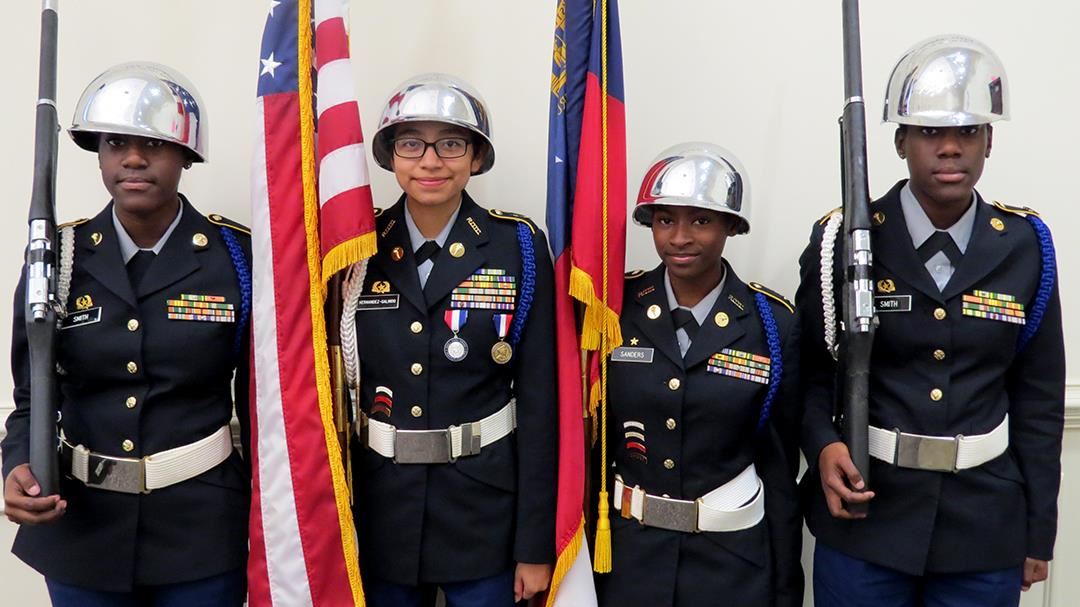 The Hiram High School JROTC presented the colors at Feb. 12, 2019 Board of Education meeting. From left are: Staff Sgt. Dynasty Smith, First Lt. Leamsi Hernandez-Galindo, Second Lt. Diamond Sanders, and MSgt. Destiny Smith.

Greystone Check Presentation



Greystone Power has been a long-time partner of the school district, and officials from Greystone were on-hand at Tuesday's board meeting to honor employee Jerry Tucker and present the district a $50,000 donation for its soon-to-open Paulding College and Career Academy. Mr. Tucker worked for Greystone for 50 years, including the last 18 as a linemen supervisor. One of the four disciplines of the Paulding College and Career Academy will be Energy, with a specific focus on lineman skills, and the Energy wing of the new facility will be named for Mr. Tucker. The other three areas of the PCCA will be Health Care, Megatronics, and Cybersecurity.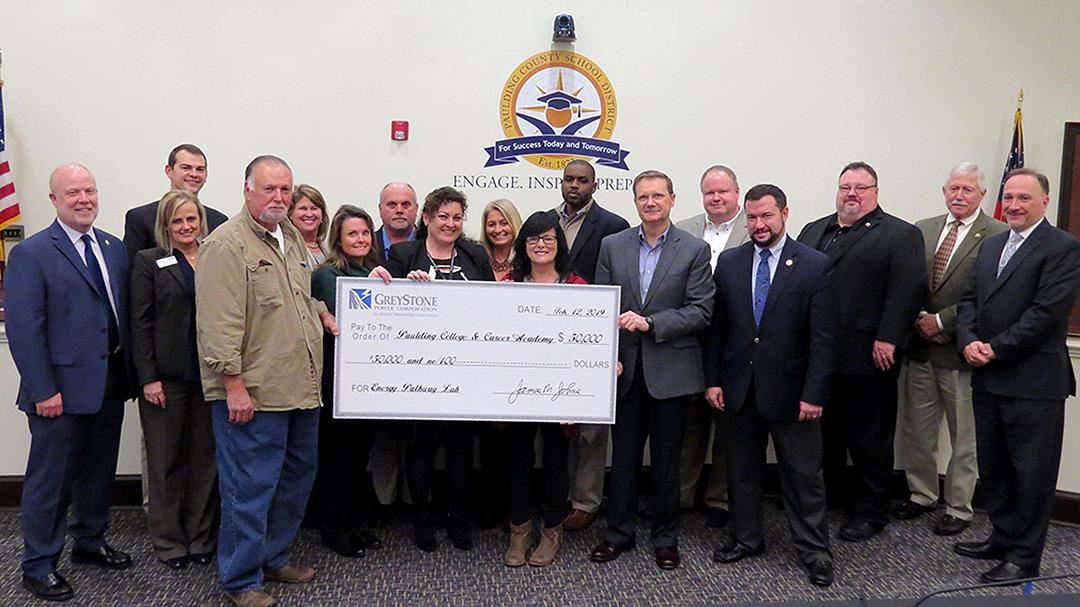 2019 STAR Students



For almost 60 years, the Student Teacher Achievement Recognition (STAR) program has recognized Georgia's outstanding high school seniors and the teachers who have been most instrumental in their academic development.
Every accredited high school in Georgia is eligible to participate in the STAR program, which honors the high school senior who has the highest SAT score and must be in the top 10 percent of their class based on grade point average.
The Paulding Chamber of Commerce has been honoring and recognizing the Paulding County STAR recipients since the Chamber's inception 54 years ago. Each school is represented in our county recognition, and our local winner goes on to compete regionally.
Each of the STAR students were recognized earlier today with a reception held here at the Board of Education, sponsored by the Paulding Chamber of Commerce, and the winners are honored at a regional dinner.
We are very excited to unite with our Chamber to honor the academic excellence of these students.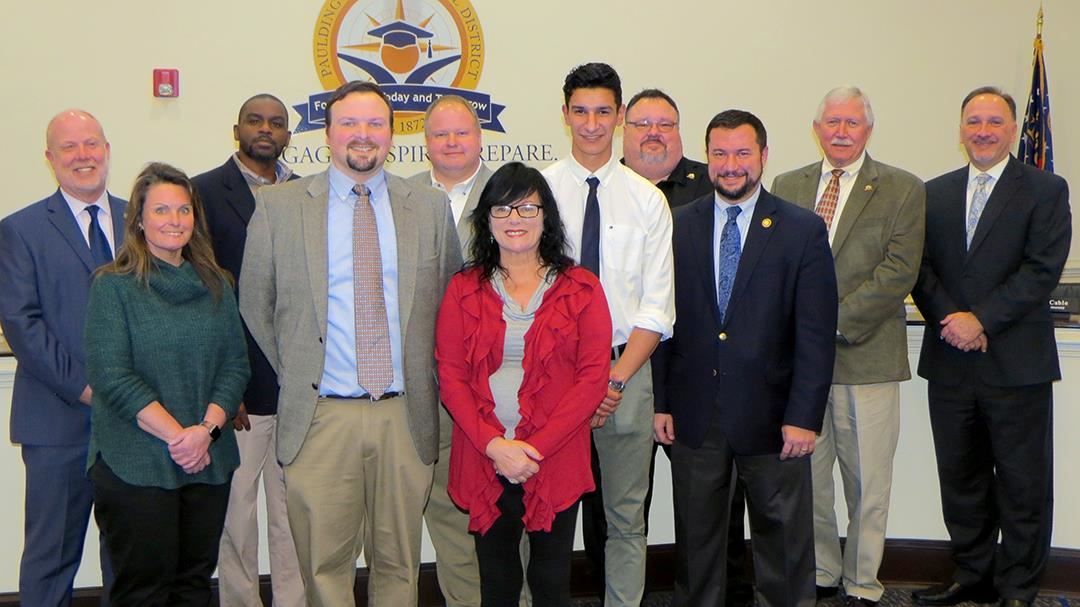 STAR Student Alfonso Garcia (white shirt) of East Paulding High School, and his STAR Teacher Justin Summey (blue shirt, grey coat), pose with the Board of Education.
STAR Student Lydia Kenney (dark dress) of Hiram High School, and her STAR Teacher Michelle Roberts (pink/black shirt), pose with the Board of Education.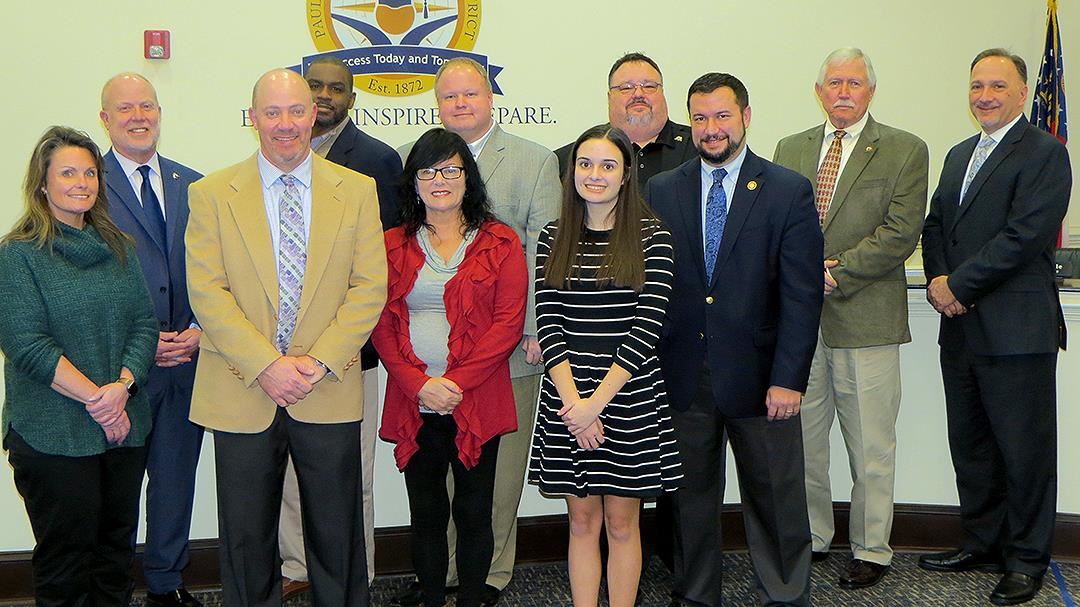 STAR Student Sarah Canastra of North Paulding High School (striped dress) and her STAR Teacher Carl Holsomback (tan coat). pose with the Board of Education.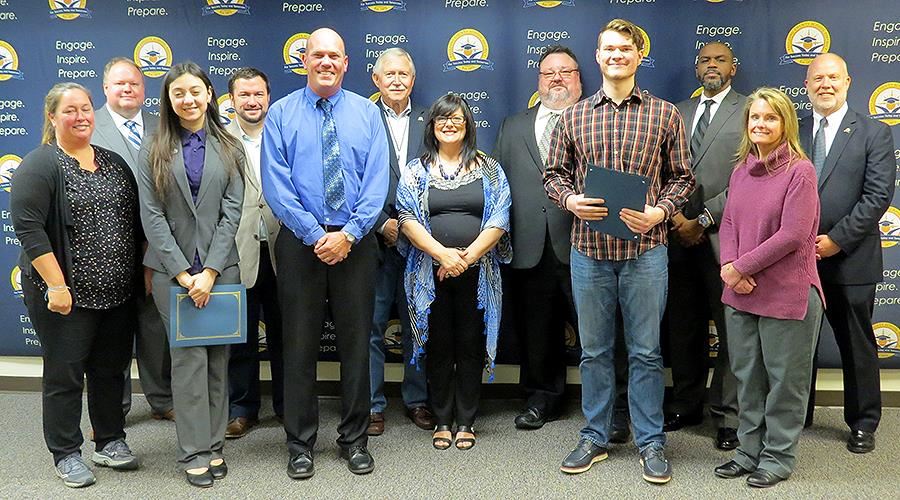 Three students at Paulding County High School finished in a tie for the STAR Student honor. Pictured with the Board of Education are STAR Student John Anderson (far right) and his STAR Teacher Soraiya Ali, STAR Student Marcus Morris (dark pants/coat) and his STAR Teacher Tricia Pedersen (red shirt), and STAR Student Walter (Samuel) Burger (teal blue shirt) and his STAR Teacher Marc Pedersen (yellow shirt).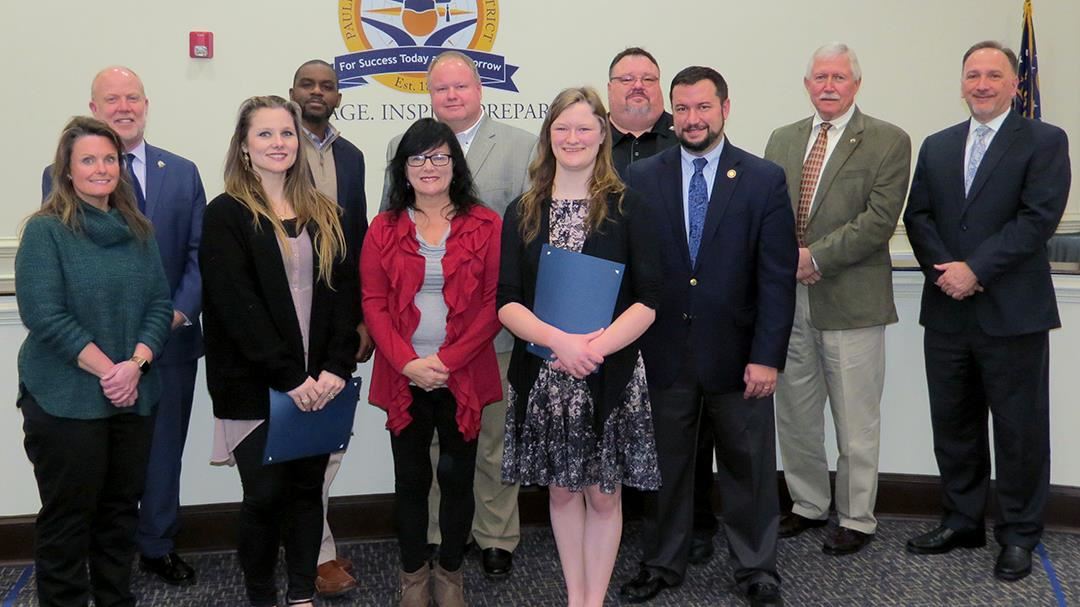 STAR Student Melinda Downey (center with blue folder) of South Paulding High School, and her STAR Teacher Tema Hoskins (left with blue folder), pose with the Board of Education.

Character In Action



Each month, students are chosen by the teachers and/or administration of their schools as excellent representatives of character at school. This month, students were recognied for the character trait of Fairness.
Dugan Elementary

Aniya Noble
Aniya, a 5th grader, is a great representative of fairness as she is always willing to help or work with ANY student. She is kind, humble, and fair. Her attitude for school is something we wish every student could have. She tackles any task head on and never gives up!
New Georgia Elementary

Haylee Brooke Wilson
Haylee Brooke, a 5th Grader, is a student who has always demonstrated Fairness (as well as many other positive character traits) all through her time in school at New Georgia Elementary. She is an excellent role model for our school.
Union Elementary:
Isaac Lewis
Isaac, a 4th Grader, is nominated by Mrs. Merrell and is overwhelmingly supported as the winner by a great many of the Union staff. He is described as respectful, happy, kind, and helpful. Isaac is known for being a good leader who makes the right choices and includes everyone.
Scoggins Middle School:
Chloe Powers
Chloe, a 7th Grader, is reasonable, thoughtful, and works extremely hard academically. She is reliable, respectful and kind, as well as a wonderful example to others.
South Paulding High School:
Lane Reinhardt
Lane, a Sophomore, goes above and beyond with manners, politeness, helping others, and scholastic achievement. He is nominated by his teacher, Mr. James Bouwens so says "Lane challenges me to be a better teacher and a better person. Lane is always willing to learn new things and challenges himself to master whatever project he is working on. Lane is a joy to be around, is always on task, and is willing to help others achieve their goals as well. I wish I could go on with the accolades, he definitely deserves them; I will say, I couldn't ask for a better student to be with me each and every day.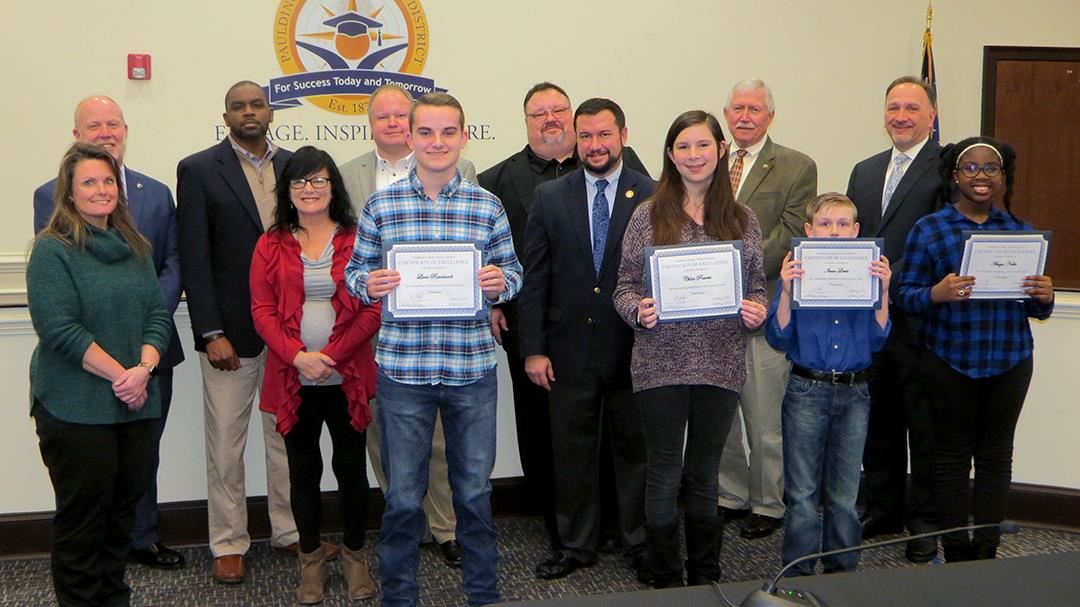 Character In Action honorees (with certficates) from left, Lane Reinhardt of South Paulding High School, Chloe Powers of Scoggins Middle School, Isaac Lewis of Union Elementary, and Aniya Noble of Dugan Elementary, pose with the Board of Education.

Fine Arts In Action

This month, we have one special artist selected from each of our middle schools to have a work on display in the Central Office Gallery through the month of April.
Austin Middle
David Williams
David is a 7th Grader and is presenting a work in Acrylic
Dobbins Middle
Zoe Mason
Zoe is an 8th Grader and is presenting a work in Colored Pencil
East Paulding Middle
Memphis Mason
Memphis a 6th Grader and is presenting a work in Colored Pencil
Herschel Jones Middle
Emma Dodd
Emma is an 8th Grader and is presenting a work in Watercolor
McClure Middle
Isabella Shiavone
Isabella is presenting a Graphite piece
Moses Middle
Tia Singletary
Tia is an 8th Grader and is presenting a graphite piece
Ritch Middle
Yvanna Duncan
Yvanna is a 6th Grader and is presenting a Tempera Batik
Scoggins Middle
Avery Hembree
Avery is an 8th Grader and is presenting a work in Acrylic
South Paulding Middle
Abby Farrell
Abby is an 8th Grader and is presenting a work in Acrylic