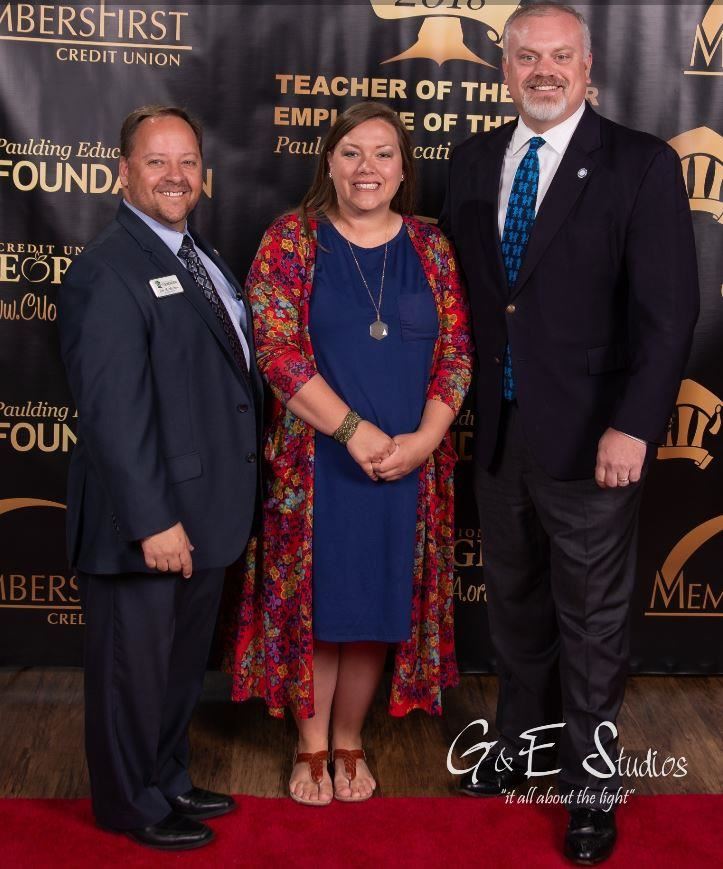 Phone:
Email:
Degrees and Certifications:
Mrs.

Nicole Longshore

Welcome to Venture!

My name is Mrs. Longshore and this is my 14th year of teaching in Paulding County. I'm the Venture teacher here at Union Elementary School and have been teaching Venture for 7 years.

I am 36 years old and have been married to the most amazing man, Justin, for 10 years this October! I have three wonderful kiddos. Ellie is in 2nd grade, Ezra is in Kindergarten, and Evie is 20 months old.

I am looking forward to an amazing 2020-2021 school year with you!
What Is Venture?

In Paulding County, our qualified elementary students participate in a resource program once a week taught by a certified gifted teacher, me. Students receive interdisciplinary enrichment in the areas of science, social studies, language arts, math, and reading. Units and skills are outlined on the district curriculum menu and aligned with State and National Gifted standards. Visit here for more information. In Paulding County, we've compiled these standards to fit into 5 Goals.

Advanced Research Skills & Methods

Creative thinking and problem solving skills

Critical thinking and logical problem solving skills

Advanced communication skills and developed products to share learning with a real audience.

Understanding of self and how characteristics influence interactions with others

Students' achievement is recorded at the end of every nine weeks and/or semester via the report card. In elementary, students are scored with S - satisfactory, N- needs improvement, or U - unacceptable. In order to remain in Venture, students must maintain satisfactory performance within the Venture classroom. Assessments for this may come in the shape of a daily behavior/work habits report from our Venture View (more detail to come), rubrics for class assignments, percentage scores from math assessments or reading assessments, participation rubrics, verbal communication/presentations of learning, etc.

Venture Schedule:

Venture will begin the week of August 17th. Days have changed from last year! Our current schedule is as follows:

| | | | |
| --- | --- | --- | --- |
| MONDAY | TUESDAY | WEDNESDAY | THURSDAY |
| K-2ND GRADE | 5TH GRADE | 3RD GRADE | 4TH GRADE |

Canvas:

All classwork, projects, and other in-class information can be found on our Canvas page. Canvas Link

Students log-in using their lunch number. Their passwords will be the first three initials and their birthdate month+day (both digits).

Technology Use:

Students will have access to technology in our classroom, however, you may want to send them with their own device. In order to do so, you will need to fill out a BYOT (Bring Your Own Device) permission form. If students do not have a form on file with your permission, they may not have their own individual device.

I am attaching a permission form that must be filled out in order for your student to use his/her device in Venture. You may complete the form electronically here Bring Your Own Technology Form or you can print and send it in with your student. Bring Your Own Technology Permission Form

ClassDojo:

Our class will continue to use ClassDojo for rewards, documentation of what we're learning, and communication. I will no longer send a paper copy of the weekly newsletter to be signed. Instead, I will post the newsletter each week on Dojo. Please make sure to view it and "like" it so that I know you have see it. All behavior concerns will be messaged directly to you through private messaging on ClassDojo . If you do not have the app, I encourage you to signup today!

Donated Supplies:

Please just donate what you can, as you can. Here are some supplies that I know we will need for now:

Tissue Boxes (you can send in the empty ones but we do need the full ones also)

Composition Journals/Notebooks (if you sent in one last year, you do not need to send another one)

3-Ring Binder with a clear pocket in the front 1" is fine (only bring if you're new to Venture)

Tape Dispensers (like the big packs you can buy at Christmas)

Toilet paper and paper towel rolls (clean please)

Empty baby food jars (washed)

Pipe cleaners

Tissue Paper (any color)

Empty water bottles (prefer softer plastic)

Flat pieces of cardboard

Toothpicks

Tongue Depressors/Popsicle Sticks

Baby Wipes

Play-Doh

Gloves

Allergy Friendly Snacks (for those that forget one)

Batteries (AA & AAA)